What is acalculous cholecystitis?
Acalculous cholecystitis is gallbladder inflammation that is not caused by gallstones [1].
Acute Acalculous Cholecystitis
Acute acalculous cholecystitis is a life-threatening condition, which usually occurs in older severely ill patients in intensive care units. It can develop due to decreased motility and blood perfusion of the gallbladder within 1-50 days of the triggering event, such as [1,5]:
Critical illness (burns, sepsis, trauma, congestive heart failure, hypovolemic shock)
Recent surgery
Prolonged fasting or intravenous feeding (total parenteral nutrition)
Infection:

Bacterial: brucellosis, cholera, leptospirosis, salmonellosis, tuberculosis, typhoid fever
Viral: cytomegalovirus infection, Dengue fever, hepatitis A, advanced HIV/AIDS, infectious mononucleosis (Ebstein-Barr virus)
Fungal: candidiasis
Parasitic: cyclosporiasis, malaria, microsporidiosis, schistosomiasis
A milder form of acute acalculous cholecystitis can be, rarely, associated with a chronic condition, such as [1,2]:
Poorly controlled diabetes mellitus
Atherosclerosis
Vasculitis
Cancer with metastases
Systemic lupus erythematosus
Obesity
Chronic Acalculous Cholecystitis
Chronic acalculous cholecystitis appears to be much less severe than the acute one. It can develop without an apparent cause or can be associated with impaired gallbladder motility or accumulation of cholesterol in the gallbladder wall (cholesterolosis) [4,6].
Symptoms
Symptoms of acalculous cholecystitis can include pain and tenderness in the right upper abdominal quadrant and nausea within an hour of a fatty meal [5].
Complications
Common complications of acute acalculous cholecystitis include gallbladder infection, perforation and  gangrene, which all increase the risk of death.
Diagnosis
In acalculous cholecystitis, ultrasonography typically reveals one or more of the following: distended gallbladder, thickened gallbladder wall, gallbladder sludge and absence of gallstones [1,7].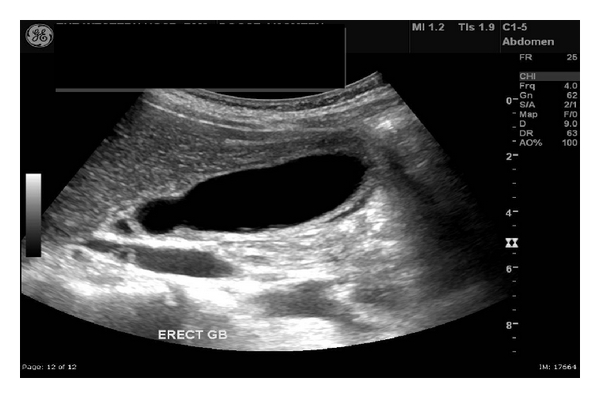 Picture 1. An ultrasound image of acute acalculous cholecystitis
showing a thick gallbladder wall and no gallstones
(source: Hindawi, CC license)
Scintigraphy (HIDA scan) usually reveals low gallbladder function (low ejection fraction).
It is a pathologist who can make a final diagnosis of acalculous cholecystitis after examination of the removed gallbladder.
Similar Conditions
Conditions that can have similar symptoms as acalculous cholecystitis [3,5]:
Gallbladder attack caused by gallstones
Irritable bowel syndrome
Peptic ulcer
Pancreatitis
Treatment
When possible, acute and chronic acalculous cholecystitis are treated by a surgical removal of the gallbladder. When surgery is not possible, the treatment can include:
An insertion of a stent (tube) between the gallbladder and small intestine
Gallbladder drainage through the abdominal wall (percutaneous cholecystostomy)
Antibiotics
Prognosis
Among severely ill patients with acute acalculous cholecystitis, the reported mortality is about 40% [1]. In individuals without a severe underlying disease, the prognosis after gallbladder removal is excellent [1].
About 80% of individuals with chronic acalculous cholecystitis report permanent pain relief after gallbladder removal [3,4].