What is coronary heart disease (CHD)?
Coronary heart disease (CHD) refers to the narrowing of the coronary arteries in the heart due to the buildup of plaques in them. CHD can decrease the blood and thus oxygen and nutrients supply to the heart (ischemia), which can result in chest pain (angina pectoris) or heart attack.
Synonyms: coronary artery disease, ischemic heart disease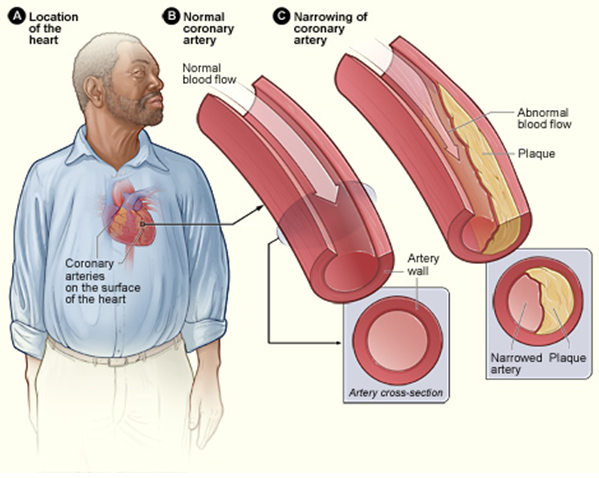 Picture 1. Coronary heart disease: normal and clogged coronary artery
(source: nhlbi.nih.gov, Public domain)
What are the coronary arteries?
Coronary arteries (from the Latin corona = crown or circle) are 2 arteries that originate from the aorta, run around the heart and supply the heart muscle with blood.
Causes and Risk Factors for CHD
The underlying condition in CHD is the hardening and narrowing (atherosclerosis) of the coronary arteries because of the buildup of plaques composed of cholesterol and calcium (atheroma).
Main controllable risk factors for CHD [1,2]:
High LDL and low HDL cholesterol and high triglyceride levels
Diabetes mellitus and prediabetes
Overweight and obesity
High blood pressure
Cigarette smoking
Lack of physical activity
Psychological stress and depression
The particularly bad combination of risk factors for CHD, called metabolic syndrome, includes abdominal obesity, high blood pressure, high glucose and triglyceride and low HDL levels [2].
Main non-controllable risk factors for CHD [1,2]:
Age >45 in men and >55 in women
Genetic predisposition (family history of early CHD, race: African Americans, South Asians)
Other possible risk factors [2]:
High levels of small dense LDL particles, homocysteine [77,78] and fibrinogen, and low testosterone levels
Chronic inflammatory disease, such as systemic lupus erythematosus or rheumatoid arthritis [51]
Too little or too much sleep
"Screen time entertainment" (TV, computer, cinema)
Vitamin D deficiency [84]
End-stage kidney disease
HIV/AIDS
There is conflicting evidence about high levels of C-reactive protein (CRP) [2,79,80,81] and lipoprotein(a) [82,83] as independent risk factors for CHD.
Symptoms of CHD
Coronary heart disease, especially in its early phase, can be present without any symptoms. Symptoms appear when the arterial plaques obstruct the delivery of blood and thus nutrients and oxygen to the heart. Initially, the pain appears only when the heart needs more oxygen, which is during exercise but later also during rest.
Individuals with CHD can experience recurrent chest pain called angina pectoris. A complete or prolonged blockage of the coronary arteries can cause the death of a part of the heart muscle, called myocardial infarct or heart attack.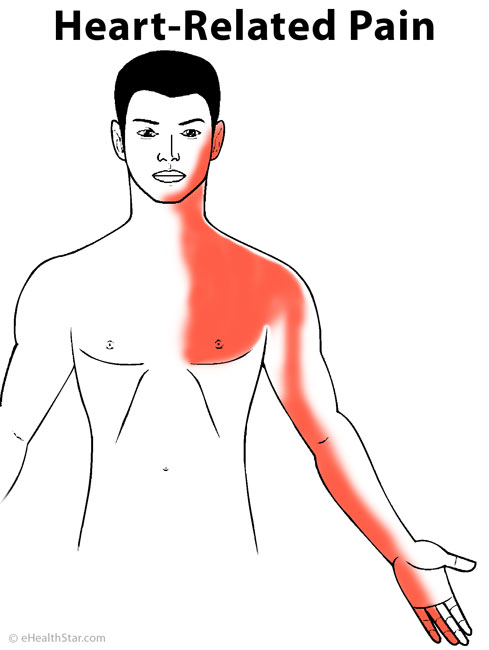 Picture 2. Pain distribution in coronary heart disease
(angina pectoris or heart attack)
Squeezing pain behind the sternum triggered by exercise, big meal, psychological stress or cold often radiates to the left shoulder blade, neck, jaw and down the inner side of the left arm all the way to the fingers. In women, pain often radiates into both or between the shoulder blades and both arms.
In angina pectoris, pain lasts less than 5 minutes and is quickly and completely relieved by rest or nitroglycerin.
In a heart attack, pain usually lasts more than 15 minutes, can be very severe and is not relieved by rest or nitroglycerin.
Other symptoms can include nausea, vomiting and fainting.
Diagnosis of CHD
A doctor can suspect coronary heart disease in a person with recurrent chest pain triggered by exercise.
The following investigations can reveal plaques in the coronary arteries [2,3]:
Coronary angiogram or cardiac catheterization (an X-ray image of the coronary arteries after injecting a contrast substance into them)
CT angiography
Electron-beam computed tomography (EBCT)
Carotid intima-media thickness (CIMT) test by using the ultrasound
Stress testing (monitoring your heart rhythm and rate, blood pressure, chest pain, shortness of breath during exercise)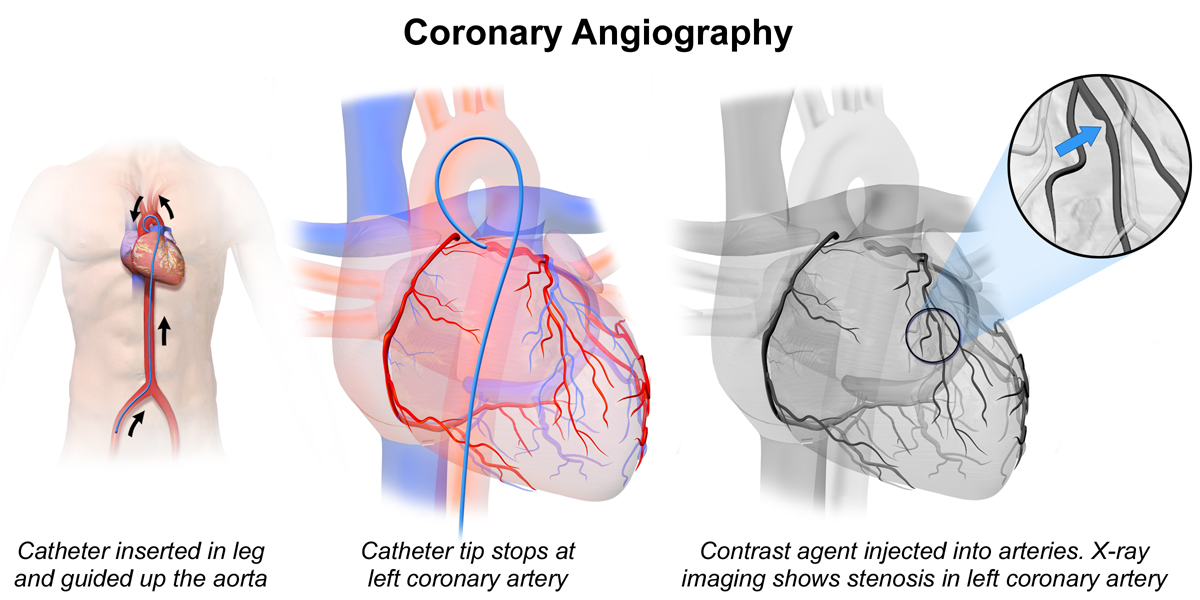 Picture 3. Coronary angiography
(source: Wikipedia, CC license)
Differential Diagnosis
Conditions that can mimic coronary heart disease:
Costochondritis
Peptic ulcer
Pericarditis
Pneumothorax
Pulmonary embolism
Treatment of CHD
Currently, coronary heart disease cannot be cured, but it can be treated.
1. Drugs
Various combinations of drugs can be used in CHD:
To reduce acute pain (angina pectoris): sublingual nitroglycerin (to apply under the tongue)
To prevent pain by dilating coronary arteries and reducing oxygen demand by the heart: nitrates (isosorbide), beta-blockers (propranolol), calcium channel blockers (diltiazem, verapamil)
To lower high LDL cholesterol: statins (lovastatin) [76]
To raise low HDL cholesterol: niacin, fibrates (fenofibrate)
To reduce blood clotting in the coronary arteries: aspirin or clopidogrel
To lower high blood pressure:

Angiotensin-converting enzyme (ACE) inhibitors, such as ramipril (They reduce the risk of complications of CHD, such as heart attack and death, even in individuals with normal blood pressure.) [75]
Beta blockers can slow down the progression of the coronary heart disease [50].

Ranolazine (anti-ischemic agent) can be used when other drugs are not effective [105].
Reference: [75]
2. Supplements and Herbs
There is INSUFFICIENT EVIDENCE of the effectiveness of traditional Chinese herbal medicine in the treatment of heart-related chest pain (angina pectoris) [107].
3. Surgery
Balloon angioplasty is the widening of narrowed coronary arteries by the catheter that has an inflatable balloon and stent on end. A doctor inserts the catheter into the femoral artery in the groin and pushes it toward the heart. When the part of the catheter with the balloon and stent reaches the coronary arteries (which is checked by an X-ray), a doctor inflates the balloon and expands the stent. Then a doctor removes the catheter and the balloon, but the stent remains permanently in the artery and keeps it dilated [4]. This method is suitable when only one or few short parts of the arteries are narrowed.
Coronary artery bypass grafting (CABG) is a method of overcoming the narrowed parts of the coronary arteries by using a piece of an artery or vein (usually taken from a patient's leg, arm or chest) and sewing it with one end in the aorta and the other end in the coronary artery after the narrowing, which enables the blood flow around the narrowing [4]. The bypass is usually done only in severely narrowed coronary arteries; more than one bypass can be done at the same time. Surgery usually results in immediate and complete pain relief [103]. Arterial grafts remain open longer than venous grafts [103]. 20-30% of the patients may need a second procedure within 10 years [104].
Prevention of CHD
What you can do to reduce the risk of coronary heart disease:
Maintain a healthy body weight.
Maintain normal glucose, cholesterol and triglyceride levels.
Maintain normal blood pressure.
Do not smoke and drink excessive amounts of alcohol.
Be regularly physically active.
Learn to cope with emotional stress.
1. Diet
In short:
Maintain healthy body weight — this is probably the single most effective dietary approach to decrease the risk of CHD.
There is no single nutrient, dietary supplement or food that would prevent CHD. Vegetarian and Mediterranean diet have been associated with decreased risk of CHD in some studies.
Evidence about the HARMFUL effects of nutrients/foods on CHD:
Trans fat. High consumption of trans fats from fast foods (French fries, cheeseburgers, chicken nuggets), commercially baked products (biscuits, crackers, doughnuts, pies), stick margarines, vegetable shortening, coffee creamers, other foods with added "partially hydrogenated oil" or Vanaspati ghee (clarified butter used in South Asia) have been associated with increased risk of CHD [5,6,7,8,9,23].
Saturated fat. According to some systematic reviews of studies, there is a strong association between high intake of saturated fat and CHD [11,12], but according to other reviews, there is insufficient evidence of such association [13,14,15,16,17,23]. High consumption of processed meat [85] was associated with increased risk of CHD, but consumption of unprocessed red meat (beef, pork, lamb) [85], dairy products [10] and specifically milk [87,88,89], cheese [87] or butter [87] and coconut oil [90,91] was not. Some researchers have suggested that preservatives in processed meat, such as sodium, nitrites, nitrates and nitrosamines, may increase the risk of CHD [85].
Sodium. There is CONFLICTING EVIDENCE about high sodium intake as a risk factor for CHD [18,19,20,21,97]. According to one review, high sodium intake is associated with increased risk of CHD only in individuals with hypertension [22].
There is NO CONVINCING EVIDENCE that high cholesterol (eggs, shrimps, organ meats) [47,48,49] total fat [52,53,54] added sugars (soft drinks, sweets) [102] or, specifically, fructose [43] intake would increase the risk of CHD. NOTE: High sugar and fat intake often lead to obesity, which is a risk factor for CHD.
Evidence of the PREVENTATIVE effects of nutrients, supplements or herbs on CHD:
Fish. There is SOME EVIDENCE that consumption of fatty fish high in omega-3 polyunsaturated fatty acids EPA and DHA (mackerel, salmon, sardines, halibut, trout), at least once to twice weekly [35], but less likely fish oil supplements [35,37,41,109] decreases the risk of CHD. NOTE: Fish oil may decrease the risk of CHD only in people with known risk factors (obesity, high LDL cholesterol and triglycerides) [37]. In people who regularly consume fish, fish oil probably does not have any additional heart-protecting effect [37].
There is SOME EVIDENCE that replacing some saturated fat with polyunsaturated fats in the diet can reduce the risk of CHD [38,39,40].
Whole grains. There is SOME EVIDENCE that regular intake of insoluble dietary fiber from whole-grain cereals and vegetables [55], beta-glucan from whole barley and oats [56,108] or psyllium husk (at least 7 g/day) [57] is associated with the lower risk of CHD.
Vegetarian and Mediterranean diet. According to 3 reviews of observational studies, vegetarians had 25-34% lower mortality from ischemic heart disease than regular meat eaters [63,64,65]. Mediterranean diet (regular consumption of whole grains, fish, poultry, vegetables, beans, potatoes, fruits, olive oil, nuts, seeds and wine) was also associated with lower risk of CHD [66,67,68,69,70].
Moderate alcohol drinking (up to 2 drinks per day for men and 1 drink per day for women) was associated with decreased risk of CHD when compared with excessive drinking or not drinking at all [28,29,30]. There is not enough evidence to claim that red wine (high in polyphenols) is more effective in the prevention of CHD than other alcoholic beverages [27].
There is INSUFFICIENT EVIDENCE of the preventative effect of high intake or supplementation of any nutrient or herb, such as coenzyme Q10 [31], antioxidants or vitamins A, C, D, E [45], B6, B12 or folate [44], choline [46], flavanols in green or black tea [32], soy isoflavones [36], resveratrol [33], garlic [96], phytosterols [97,98], alpha-linolenic acid from flaxseed oil [34], potassium [60], calcium [59], magnesium [58], chocolate or cocoa (high in polyphenols [100,101], Tong-xin-luo capsules [106] or monounsaturated fatty acids from olive oil or nuts [40,42] on CHD.
There is INSUFFICIENT EVIDENCE of the preventative effect of a low-carb [71,72] or low glycemic index diet [62] on CHD.
2. Exercise
There is SOME EVIDENCE that regular physical exercise (at least 30 min/day) may decrease the risk of CHD [92], possibly because it helps to maintain healthy body weight, increase HDL and decreased LDL cholesterol and triglyceride levels [93,95] and decreases the risk of diabetes 2 (insulin resistance) [94].
There is INSUFFICIENT EVIDENCE of the preventative effect of yoga on CHD [61].
3. Drugs
Aspirin, taken regularly, can modestly decrease the risk of CHD [73,74].
Caffeine does not seem to decrease or increase the risk of CHD [24,25,26].