Gallbladder pain, as described in this article, can arise from the gallbladder or bile ducts.
The gallbladder is located in the upper right abdomen underneath the lower edge of the liver and the lower border of the rib cage (Diagram 1) [1].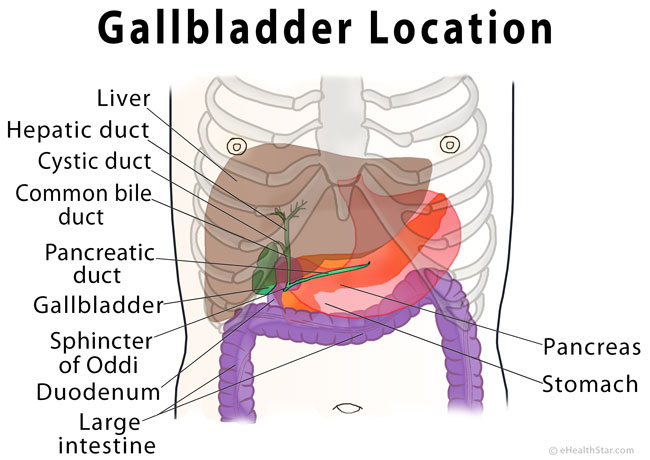 Diagram 1. The gallbladder is located
underneath the lower border of the right rib cage.
Where is gallbladder pain felt?
Pain from the gallbladder or bile ducts is usually felt in the upper right abdomen below the rib cage or in the upper central abdomen (Diagram 2) [17].
Gallbladder Referred Pain
Gallbladder pain can be referred to the right lower chest, flank, lower back, shoulder or neck, or between the shoulder blades (Diagram 2) [17].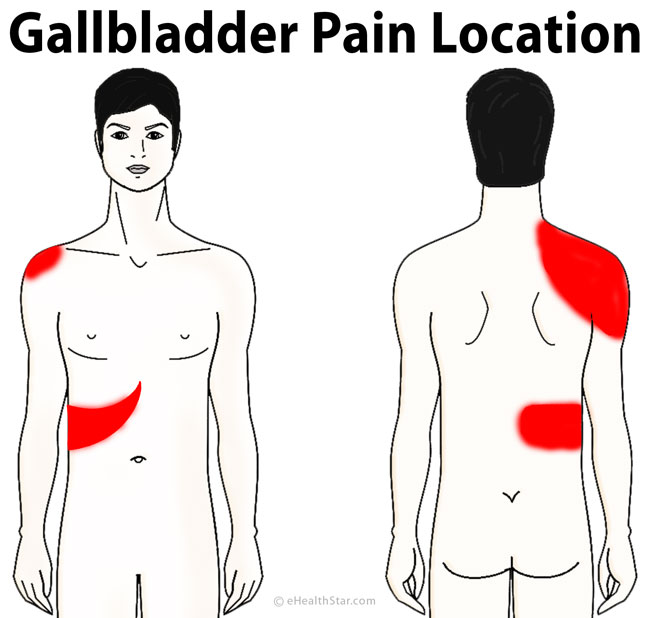 Diagram 2. Gallbladder pain and referred pain location
Gallbladder and Chest Pain
Gallbladder problems can cause pain in the lower right or middle chest area, but not likely in the center of the chest. Common causes of upper abdominal pain with central chest pain are gastroesophageal reflux disease (GERD), peptic ulcer or heart disease.
Gallbladder and Back Pain
Gallbladder pain often extends from the right upper abdomen toward the right middle back, between the shoulder blades or into the right shoulder blade. Other common causes of upper abdominal pain and back pain include kidney and liver disease, peptic ulcer and acute pancreatitis.
Gallbladder and Right Shoulder Pain
Gallbladder pain can be referred to the tip of the right shoulder or both shoulders, but not likely only to the left shoulder [4]. Shoulder pain arising from the gallbladder is not aggravated by touch or shoulder movements. Other causes of abdominal pain with right shoulder pain include liver or stomach problems, abdominal infections and lung cancer.
Can gallbladder pain be felt on the left side?
Gallbladder pain can extend from the right over the middle toward the left side of the abdomen, but the pain on the left side alone is not typical for gallbladder problems. In a very rare anatomical variant, in which the liver and gallbladder are located on the left side, the pain from gallbladder would be on the left.
What does gallbladder pain feel like?
Characteristics of gallbladder pain [2,3,4,13]:
The pain in the right upper abdomen usually appears suddenly, initially increases in severity and continues as a constant (not crampy) pain that can last from several minutes to few days.
The pain is usually deep, dull and severe.
The pain may be aggravated by deep inhalation but not likely by the body movements.
It can flare up within few hours after a large meal or at any time, commonly at night.
It is not relieved by antacids, vomiting, passing gas, a bowel movement or by changing body position.
It is recurrent; it can occur every few days, months or years and there is no pain between the attacks.
How long does gallbladder pain last?
In gallstones without gallbladder inflammation: several minutes to less than 6 hours [2,20]
In gallbladder inflammation (cholecystitis): 6 hours to few days (but not likely weeks) [2]
In gallbladder dyskinesia and sphincter of Oddi dysfunction: 30 minutes to several hours [21]
In gallbladder cancer: chronic discomfort or dull pain [22]
What is gallbladder attack or biliary colic?
The terms gallbladder attack and biliary colic both refer to sudden severe pain arising from the gallbladder or bile ducts [16]. Historically, the term biliary colic has been used for pain from gallstones without gallbladder inflammation.
Other Symptoms and Signs of a Gallbladder Disease
Symptoms, other than pain that may appear in a gallbladder disease [13]:
Nausea or vomiting that occurs only when pain occurs
Fever, jaundice, itchy skin, dark urine and pale stools
A palpable lump or tenderness in the right upper abdominal quadrant
Indigestion, dyspepsia after fatty meals, abdominal bloating, excessive belching, heartburn, constipation or diarrhea are not specific for a gallbladder disease – they can also occur in other abdominal disorders [2,4,13]. Gallbladder disorders do not seem to be directly connected with a headache, but some people believe they can trigger a migraine.
Chart 1. Causes of Gallbladder Pain

Condition

Symptoms

Gallbladder sludge
Rare (complication: pancreatitis)
Gallbladder polyp
Rare (complication: cancer)
Gallstones
Recurrent RUQ* pain and nausea
Acute gallbladder inflammation (acute cholecystitis)
Recurrent RUQ pain, often fever and nausea
Chronic gallbladder inflammation (chronic cholecystitis)
Rare
Gallbladder cancer
Intermittent RUQ pain, poor appetite, weight loss
Biliary dyskinesia
Recurrent RUQ pain
Sphincter of Oddi dysfunction
Recurrent RUQ pain
Infection of the bile duct (acute cholangitis)
Sudden RUQ pain, fever, jaundice, dark urine, gray stools
Autoimmune inflammation of the bile ducts (primary sclerosing cholangitis)
Chronic RUQ pain, fever, jaundice, dark urine, gray stools
Chart 1: *RUQ = right upper abdominal quadrant
Gallbladder Pain Without Stones
Gallbladder pain without gallstones can appear in:
Acute acalculous cholecystitis, usually related to severe disease or surgery
Gallbladder dyskinesia
Sphincter of Oddi dysfunction
Gallbladder cancer
Diagnosis
Abdominal ultrasound can reveal:
Gallbladder stones as small as 2 mm in 95% cases and, sometimes, stones in the common bile duct
Acute or chronic cholecystitis, gallbladder polyps and cancer [2]
Endoscopic ultrasound–via the tube inserted through the mouth into the intestine–can reveal stones in the common bile duct and biliary sludge [6].
Magnetic resonance imaging (MRI) can show biliary sludge, gallbladder polyps and cancer.
Magnetic resonance cholangiopancreatography (MRCP) can show stones, tumors and inflammation in the common bile duct [2,12,13].
Endoscopic retrograde cholangiopancreatography (ERCP) can reveal stones in the bile duct and enables their removal, drainage of the infected duct and cutting the sphincter of Oddi.
X-ray shows gallstones in only up to 20% cases and CT scan in up to 80% cases [15].
Hepatobiliary scintigraphy (HIDA scan) is used to evaluate the gallbladder filling and emptying in gallstones or gallbladder dyskinesia; no filling or poor emptying (ejection fraction <40%) is an indication for the gallbladder removal.
Blood tests may show:
Increased white blood cells: in cholecystitis and cholangitis
Increased liver enzymes or bilirubin: in bile duct obstruction
 Chart 2. Conditions That Can Mimic Gallbladder Pain

Irritable bowel syndrome (IBS)
Gastritis or gastric ulcer
Urinary tract infection (UTI)
Kidney stones
Inflammatory bowel disease (Crohn's disease, ulcerative colitis)

Inflammation of the liver (viral hepatitis)
Rib fracture
Small bowel obstruction
Adhesions (internal scars after surgery)
Aneurysm of the abdominal aorta
Gallbladder Pain Treatment
Analgesics
Analgesics for either mild or severe pain should be tried in this order [11,18]:
Nonsteroidal anti-inflammatory drugs (NSAIDs):

Ibuprofen
Diclofenac (intramuscular injection or a suppository)
Ketorolac

Narcotic analgesics:

Meperidine
Codeine, hydrocodone or oxycodone + paracetamol
Morphine or pethidine (intramuscular injection)

Antispasmodics:

Dicyclomine
Butylscopolamine (hyoscine butylbromide)
Note, that analgesics can have significant side effects: NSAIDs may cause or worsen peptic ulcer and opiates can cause constipation, nausea and drowsiness.
In the third trimester of pregnancy, certain nonsteroidal anti-inflammatory drugs or NSAIDs (diclofenac, ibuprofen, indomethacin, ketorolac, naproxen) should be avoided because they may cause birth defects, but aspirin, paracetamol and opiates (codeine, fentanyl, morphine, pethidine) appear to be safe [7,8].
Fasting
To prevent additional pain from gallbladder contractions during gallbladder attack, do not eat anything and drink only plain water [10].
Diet
There are no specific foods to eat or avoid that would prevent gallbladder pain. Avoiding large, especially fatty, meals [16] and coffee [19] may help prevent recurrent pain attacks caused by gallstones.
Avoiding Stress
In some individuals diagnosed with gallbladder dyskinesia or sphincter of Oddi dysfunction, avoiding stress and learning how to cope with it can prevent pain.
Home Remedies
Remedies that may help relieve gallbladder pain, according to anecdotal reports:
A heating pad or castor oil compress
Hot bath
There is no reliable scientific evidence that gallbladder flush or cleanse using the following herbs or beverages helps to ease gallbladder pain [9,14]: alfalfa, apple cider vinegar, apple juice, a mixture of beet, carrot and cucumber juice, barberry bark, calendula, catnip, chamomile tea, chicory, dandelion, Epsom salt, fennel seed, garlic, ginger, goldenseal, honey with turmeric, lemonade, milk thistle, nettle, olive oil, peppermint tea, psyllium, quebra pedra, rosemary, salt water, St. John's Wort, wild yam root, yellow dock and yellow root.
Gallstones that cause recurrent pain or inflammation, and gallbladder cancer are treated by gallbladder removal.