What is tailbone pain and where is it located?
The tailbone or coccyx is the lowest part of the spinal column. It lies below the sacrum, beneath the buttocks crease. The bottom end (the tailbone tip) is about an inch (2.5 cm) above the anus and is bent slightly forward [1;73-p.329].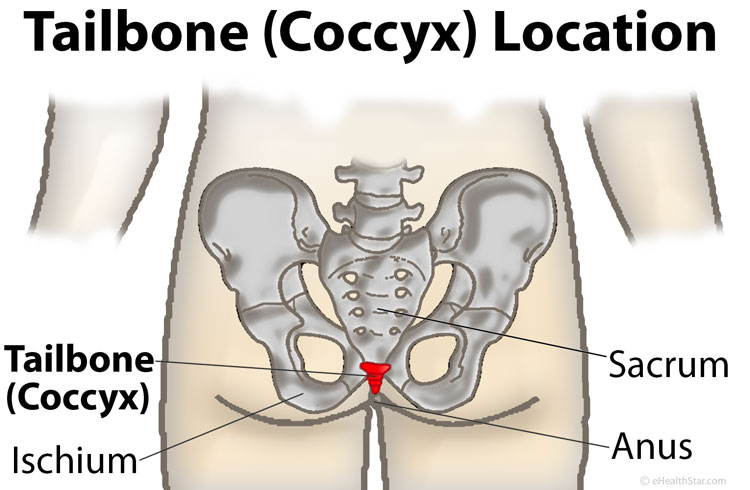 Picture 1. Coccyx location
Tailbone pain is any pain in the tailbone area. It can arise either from the coccyx bone or related ligaments, muscles, bursae (fluid-filled sacs that prevent friction), nerves or skin. When the pain arises from the actual coccyx bone, the coccyx will usually be sensitive to palpation; this is known as coccydynia, coccygodynia or coccyalgia (medical terms for tailbone pain) [7].
The pain is worst during sitting and when rising from sitting to standing position; some people describe it as sitting on a marble or knife [11]. The pain can be triggered by lying on the back, prolonged standing, walking, running, jumping, lifting heavy objects, sexual intercourse, bowel movement or even by coughing and sneezing, and can be relieved by leaning forward or to aside [13].
Common causes of acute tailbone pain are falls and childbirth and of chronic pain pregnancy and stress injuries (sitting, sport).
Risk Factors for Tailbone Pain
Female sex [8,11]
Sitting work: office work, driving [20]
Sports with frequent falls on the tailbone (rugby, football, handball, wrestling, skiing, snowboarding, skating) and "sitting" sports (cycling, rowing, horse riding, care racing)
Obesity [11]
Rapid weight loss [15]
Protruding coccyx–the tailbone sticks out as a hard bump above the anus [71]
Causes
A. INJURY
Causes of tailbone injury include direct blow, fall, car accident and childbirth (especially when using forceps) [30,76]. A doctor can diagnose a tailbone injury by a physical examination. Investigations are usually not needed; to confirm a fracture, an X-ray is needed.
1. Prolonged Sitting
In some people, sitting on hard, but probably more commonly on soft, surfaces (office chair, sofa, car or motorbike seat), for as little as a couple of hours can cause a dull tailbone pain, which usually goes away as quickly as it has appeared; the pain may become chronic.
2. Contusion (Bruise)
Symptoms and signs: dull pain that worsens with sitting, bruising in the tailbone area
Treatment: cold compress or ice pack, analgesics, sitting on a U-shaped wedge cushion
Recovery time: a skin bruise can disappear in 2-3 weeks, but pain can persist for several months, especially when a bone bruise develops.
Reference: [70]
Without an X-ray or MRI, it is not possible to differ between a contusion and tailbone fracture.
3. Tailbone Sprain
Tailbone sprain means overstretching or rupture of the ligaments that connect the coccyx with the sacrum or pelvic bones [56].
Symptoms and signs: tailbone pain aggravated by sitting, tenderness over the tailbone
Treatment: injection of a steroid/anesthetic or sclerosant solution (prolotherapy) [56,76]
4. Tailbone Luxation and Subluxation
Tailbone luxation can be defined as the slipping (dislocation) of the coccyx vertebra by more than 25% after sitting, as determined by an X-ray [76]. In luxation, a coccyx vertebra is dislocated at both ends, while in subluxation, it is dislocated only on one end [76]. Symptoms are similar than in broken tailbone (see below).
5. Broken Tailbone (Fracture of the Coccyx)
Symptoms and signs: cracking/popping sound, sudden, extreme, sharp pain, bruising and numbness in the tailbone area, inability to sit
Diagnosis: X-ray
Treatment: analgesics, sitting on a U-shaped wedge cushion; rarely surgical removal of the tailbone is needed
Recovery time: pain may persist for 4-8 weeks or, according to anecdotal reports, as long as a year; in the beginning, you may also experience numbness during sitting
Prevention: tailbone guards (protection pads), either separate or built into the underwear (padded shorts)
References: [30,66,67]
Stress (hairline) fracture is a tiny crack in the bone; it is more common in female athletes and women with osteoporosis [75]. Hairline fractures may not be detected by an X-ray but only by a CT or MRI [75].
B. SUDDEN TAILBONE PAIN WITHOUT INJURY
Shingles–a reactivation of an infection of the spinal nerves by Herpes zoster virus. Symptoms: burning pain followed by a red itchy rash–that eventually crusts over–on the right or left side of the coccyx.
Anal abscess–a localized collection of pus due to an infection–, for example, in inflammatory bowel disease (Crohn's disease, ulcerative colitis), rectal cancer or trauma, can cause throbbing pain in the coccyx area and, sometimes, swelling, redness, a lump with or without a visible opening (fistula) with discharge, and fever [64].
Medical procedures, such as colonoscopy, cystoscopy, spinal tap, epidural anesthesia, inserting of the intrauterine device (IUD), lower back surgery, curettage, hysterectomy or other pelvic surgery, can cause tailbone pain [21,61].
A coccyx infection (osteomyelitis) occurs very rarely; symptoms include severe dull pain, swelling and redness over the coccyx [31].
Persistent (Chronic) Pain
Chronic tailbone pain persists for more than 3 months [7]. A common mechanism is either tailbone hypermobility (flexion >25 degrees) [76] or hypomobility (flexion <5 degrees) [11,15] when sitting down, as confirmed by an X-ray.
1. Unexplained (Idiopathic) Pain
When a doctor can not find a cause of tailbone pain, the pain is called idiopathic [8]. Possible underlying conditions include increased front curvature (hooked coccyx) or side curvature (scoliosis) of the coccyx [19] increased [46,76] or decreased coccyx mobility due to the fusion of the sacrum and coccyx or fusion of the coccyx vertebra [15,47].
2. Coccydynia/Levator Ani Syndrome
Causes: prolonged sitting in a soft chair, for example, in computer workers and drivers
Symptoms and signs: tenderness and dull pain in the rectum, perineum (in the levator ani muscle), coccyx, vulva (vulvodynia), pubic area, buttocks and thighs that last for hours
Prevention and treatment: initially, sitting on a ring or U-shaped wedge pillow and later, sitting on hard surfaces and having frequent breaks from sitting; it may take few weeks for the pain to decrease.
Reference: [20]
3. Injury
Pain that persists for a prolonged time after an injury can be due to increased tailbone mobility or chronic inflammation and degeneration of the joints within the coccyx [7,8,11,16].
Causes: cycling, driving, bike riding, horse riding, rowing, canoeing, sit-ups [27-p.125;45]
Symptoms and signs: tight muscles in the lower back, muscle knots (trigger points) near the spine

In gluteus maximus syndrome, a painful spasm appears in one buttock near the coccyx only when going from standing to sitting or from sitting to standing position or during squatting or sit-ups but not during sitting [49].

Treatment: a massage technique called "myofascial release," dry needling, injections of a local anesthetic into the muscle knots and spinal manipulation [56,73]
5. Other Causes of Chronic Tailbone Pain [7]:
Misaligned coccyx that points forwards and upwards (hooked coccyx) to the right or left (scoliosis) rarely causes coccyx pain [19,47].
Ankylosing spondylitis is an inflammation of the spinal vertebra (spinal arthritis) with the formation of extra bone and fusion of the vertebra. Symptoms usually start in early adulthood and include severe pain and stiffness in the lower back, tailbone and hips that decrease after moving around, and excessive forward bending of the upper spine (kyphosis) [43,44].
Calcium deposits in the tendons (calcific tendinitis) or the coccyx joints have no known cause; they can be successfully treated with corticosteroids (oral or injections) [23,24].
A pilonidal cyst is a chronic infection as a reaction to an ingrown hair. It can appear as a small pit, dimple or zit or a large, red, itchy, painful and tender soft lump or boil in a buttocks crease, 4-5 cm above the anus; it may be associated with a fistula that drains blood, pus or clear liquid [11,48].
Bursitis, an inflammation of the bursa–a fluid-filled sac at the tip of the coccyx–can cause chronic pain and tenderness in the coccyx; an injection of a local anesthetic can help [68,76].
Rare causes:
Cancers in the tailbone, such as sacrococcygeal teratoma in newborns [51], sarcoma or chordoma [78], metastatic cancer from other organs, and rectal cancer
Gout (uric acid arthritis) [14]
Ehlers-Danlos syndrome (EDS)–a genetic disease of the connective tissue (stretchy skin, gastrointestinal problems and increased coccyx mobility with pain) [54]
Tailbone Pain in Pregnancy
During pregnancy, the ligaments and muscles in the pelvic floor relax due to increased secretion of the hormone relaxin [74], which results in increased tailbone mobility and thus pain [37,38]. In late pregnancy, a baby's head pressing on the mother's tailbone can further aggravate the pain. Pain can appear only in the third trimester or, according to some reports, as early as in the 15th week [17].
In symphysis pubis dysfunction, the gap between the pubic bones increases and can cause pain and discomfort in the pubic area, groin, inner thighs, sacrum or coccyx [38]. The pain can be aggravated by dressing, walking or climbing stairs. It can appear in the first trimester or only during labor and can persist for longer than 6 years [38]. Treatment may include physiotherapy, analgesics and epidural anesthesia [38].
Tailbone pain prevention in pregnancy:
Try to sit on a donut or U-shaped wedge cushion. Padded underwear does not likely help because it increases the pressure on the tailbone.
Kegel exercises are repeated contractions of the muscles around the urethra, vagina and anus in order to strengthen them and thus reduce coccyx mobility and pain [40].

To learn how pelvic floor muscles work, try to hold urine during urination and stop the passage of the stool during a bowel movement. To do this, you need to contract muscles between the genitalia and anus. Technique [42]: At any time, when you are in bed, you are sitting or standing, but not during urinating or bowel movements, contract pelvic floor muscles as you were trying to hold the urine or stool. Hold for 5-10 seconds and release for 5-10 seconds. Do a set of 10 contractions and repeat several times a day.

A physiotherapist can show you exercises to strengthen the pelvic floor muscles and thus reduce the coccyx mobility. Exercises may or may not reduce coccyx pain.
A nonelastic maternity pelvic support belt can reduce pain in some, but not all, women [37,38].
Allowed analgesics: acetaminophen. Drugs to avoid: nonsteroidal anti-inflammatory drugs (NSAIDs), such as ibuprofen or aspirin, steroids (both by mouth and injection).
Severe tailbone pain during pregnancy may be a reason to consider a delivery by a C-section.
Referred Pain (No Tenderness in the Coccyx)
When you feel pain in the coccyx area but the pain does not worsen when you press on the coccyx, the pain probably originates from the nearby organs:
Hemorrhoids. Symptoms: a bluish soft mass within the anus or protruding out, dull ache, feeling of fullness, burning and itching in the anus, occasional rectal bleeding.
Benign tumors near the coccyx, such as glomus tumor, dermoid or epidermal cyst, schwannoma, lipoma, hemangioma or other tumors in the pelvis can cause a visible lump and chronic tailbone pain [25,32,33].
Complex regional pain syndrome (CRPS) or reflex sympathetic dystrophy (RSD) due to overactivity or irritation of the ganglion impar (ganglion of Walther)–a small nerve nodule in the front of the sacrum/coccyx joint–can cause pain in the coccyx and sacral area, rectum and perineum [3,55].
Tarlov cyst, which arises from the meningeal membrane that covers sacral spinal nerves, can cause soreness, burning sensation and feeling of pressure in the coccyx, sacrum, hip or thigh (sciatica), especially when bending forward [52,53]. It can develop after trauma or epidural injections; it can be diagnosed by an MRI [52].
Psychological Causes of Tailbone Pain
Tailbone pain is much more commonly caused by physical than psychological conditions [29]. Examples of psychogenic tailbone pain:
Anorectal neuralgia–pain in the anus and rectum–may be associated with neurosis [22].
Constant pain in the tailbone area that is not affected by the body position can be associated with hysteria or depression [76].
Other Causes of Pain Triggered By Sitting
Lumbar degenerative disc disease (spondylosis) with bulging or herniated discs L4/L5 or L5/S1 can result in a pinched sciatic nerve. Pain (sciatica), numbness, tingling and sometimes vibrating/buzzing feeling can radiate from the lower back toward a buttock, into the coccyx area, down the back side of the thigh and lower leg, into a foot and toes, usually only on one side. Symptoms are usually aggravated by sitting and relieved by walking [17].
In piriformis syndrome, the fall on the buttock can cause swelling and hardening of the piriformis muscle, which runs from the sacrum to the thigh bone (femur), and can press on the sciatic nerve. Pain, numbness and tingling can be felt in the buttock, coccyx, hip or groin, scrotum in men or labia in women. The pain can radiate down the back side of the leg (sciatica), usually only on one side, and can be aggravated by sitting, running, squatting or bowel movements [50].
Nonrelaxing pelvic floor dysfunction refers to increased tension of the muscles between the genitalia and coccyx (levator ani muscle). Causes may include forced holding of urine and stool for prolonged periods as learned from childhood, abnormal reaction to stress, postural or gait abnormalities, childbirth, injury, sexual abuse, pelvic surgery, irritable bowel syndrome, interstitial cystitis and endometriosis. Symptoms can include frequent urination or urinary urgency or hesitancy, constipation and painful intercourse [39]. Some people believe that squats are a good exercise to relax pelvic floor muscles. Squats strengthen the buttocks muscles, which pull the tailbone backward and thus possibly relieve pain.
Pudendal neuropathy (neuralgia) refers to a damage of the pudendal nerve in the pelvic floor, caused, for example, by an injury or diabetes mellitus. Symptoms may include stabbing or burning pain, tingling and numbness (paresthesia) around the genitalia, anus or the coccyx; symptoms are aggravated by sitting and relieved by sitting on a toilet seat or donut cushion [41,58].
Other Causes of Lower Back Pain
Immediate pain relief after injection of an anesthetic in the tailbone suggests that pain arises from the tailbone [11].
"Bad back" or "stiff back" can result from lower back injury; the pain is in the lumbar area, not likely in the coccyx.
In fibromyalgia, tender points can be found symmetrically on the right and left side above the buttocks, on the back side of the neck, at the top of the shoulders, in elbows, hips and knees but not over the coccyx.
Proctalgia fugax is random, sudden, sharp, stabbing, short-lasting (seconds, minutes) pain in the anus, usually at night, and is not related to bowel movements or bowel diseases [62].
Tailbone Pain Examination
Inspection and external palpation. A doctor inspects the area for eventual deformities or abnormal bumps and checks for tailbone tenderness.
Internal palpation. A doctor inserts one or two gloved fingers into the rectum, tests the tailbone mobility and checks for tumors.
Coccyx Pain Investigations
X-Ray
A dynamic X-ray in sitting and standing position can reveal an abnormal curvature or flexibility of the tailbone, fractures, subluxations, luxations or other dislocations and bone spurs (spicules).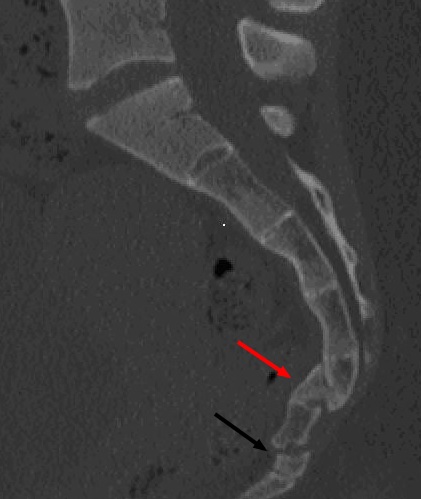 Picture 2. An X-ray of a coccyx fracture and subluxation
in a 34 years old woman after a fall from a bicycle
Red arrow: fracture
Black arrow: subluxation
(source: coccyx.org)
MRI
Magnetic resonance imaging (MRI) can reveal fractures, dislocations, tumors, degenerative spinal disc or joint disease, bone spurs or inflammation [11].
CT
Computer tomography (CT) is rarely needed; it can be used to better show suspected fractures.
Stool test for blood should be performed when rectal cancer is suspected [11].
Prevention, Treatment and Management of Tailbone Pain
Early treatment reduces the chance that acute pain will become chronic [6].
Appropriate Sitting Position
During the sitting, lean forward, so your tailbone will not bear the weight of your upper body. It can help if you alternately sit on the right and left cheek. Sitting always on one cheek can cause ischial bursitis–an inflammation of a fluid-filled sac on the bottom of the hip bone–and pain on the bottom of the right or left buttock [7].
After each hour of sitting, stand or walk for 5 minutes.
Seat Cushions
Ring (donut) or U-shaped wedge cushions prevent tailbone contact with the sitting surface and can thus prevent pain [15]. Many individuals prefer wedge over donut cushions, but some prefer neither [34]. Gel and inflatable cushions are available.
Special chairs that help prevent tailbone pain are available. If nothing other is available, you can sit on two chairs with one leg on each.
NOTE: Sitting on soft chairs usually aggravates, not relieves, coccyx pain.
Avoid Constipation
Try to avoid constipation by maintaining soft stools: consume enough dietary fiber (plant foods) and water [11]. Avoid straining during bowel movements.
Ice Packs, Heat Pads, Sitz-Baths
Ice cubs packed in a plastic bag and wrapped in a cloth, or heat pads placed on the painful area for 20 minutes several times a day may help reduce pain if you have bruised or broken tailbone [35]. Hot pads or hot sitz-baths may also help.
Stretching Exercises
If you have a fresh coccyx injury, do not do any exercises unless your doctor has told you so.
According to anecdotal reports, the following exercises may help reduce coccyx pain [40,77]: walking, squats, swimming on the back with minimal thigh movements, hands to feet stretch and kneeling groin stretch.
Oral Painkillers
Nonsteroidal anti-inflammatory drugs (NSAIDs), such as ibuprofen, can reduce tailbone pain [6]. Analgesic creams applied on the skin over the coccyx may also be effective [15].
Acetaminophen and tramadol can help.
Pregabalin or gabapentin can be used in Herpes zoster infection (shingles) or diabetic neuropathy [6].
Opiates fentanyl citrate or oxycodone can be used in severe pain [6].
Physiotherapy
Massage
Massage may help in muscle knots and nonrelaxing pelvic floor dysfunction [39].
Coccygeal Manipulation/Mobilization/Alignment
After an injection of a local anesthetic in the coccyx region, a doctor inserts a gloved index finger into the rectum and puts the thumb finger over the coccyx from outside and repeatedly flexes and extends the coccyx for about a minute [11]. Coccygeal manipulation can provide mild long-term relief, especially in combination with an injection of a local anesthetic, more likely in individuals with short-term pain and pain after trauma but less likely in individuals with immobile (fused) coccyx [5,12,17,26,56].
Kinesio Tape
According to one meta-analysis and one systematic review of studies (2012), there is insufficient evidence about the effect of kinesio tape (KT tape) in treating pain after muscle or bone injuries [69]. There seems to be a lack of studies about the effectiveness of KT tape in treating coccyx pain.
Acupuncture
There is a lack of studies about the effectiveness of acupuncture in the treatment of coccyx pain.
Injections
Corticosteroid (prednisone) injections–alone or in combination with a local anesthetic–near the joint between the sacrum and coccyx can be used to treat pain caused by an inflammation of the sacrococcygeal joint or ischial bursa [5].
Prolotherapy is used to strengthen sprained or partially torn ligaments after an injury. It involves an injection of the sclerosant solution near the affected joints [56]. The solution triggers proliferation (growth) of the ligament and thus strengthen it.
Ganglion impair blocks. A single injection of a local anesthetic lidocaine can, in certain chronic causes of tailbone pain (ganglion impair overactivity) provide immediate relief (within minutes), which can last several hours, and considerable long-term reduction of pain; repeated injections with longer-lasting anesthetics, such as bupivacaine, can provide relief lasting for months and significant long-term reduction of pain [5,55]. Injection of a botulinum toxin alone or in combination with a local anesthetic can provide longer pain relief that an anesthetic alone [59,60].
Destruction (ablation) of the ganglion impar. In persistent tailbone pain that does not respond to other treatment, destruction of the ganglion impar can provide long-term relief [5]. Individuals who get temporary relief from injections of local anesthetics will likely get relief from nerve ablation using phenol or ethanol injections or from radiofrequency ablation [5,55]. Sometimes, ablation needs to be repeated.
Sacral Nerve Root Stimulation
Spinal cord stimulation (sacral neuromodulation) by a small pacemaker-like device implanted under the skin in your hip area can relieve chronic coccyx pain, for example, after a coccyx fracture [57].
Surgery: Tailbone Removal (Coccygectomy)
Tailbone surgery can involve either the removal of only hypermobile parts of the coccyx or the entire coccyx. Surgery can permanently cure the pain in the following conditions [8,11,65]:
Chronic tailbone pain not relieved by other treatment
Cancer in the coccyx
Unstable coccyx–luxation or subluxation–due to trauma or other causes [18]
Coccyx that is permanently out of place
Bone spurs
According to one source, in above conditions, surgery can relieve pain in up to 90% cases, but it may take 3 months to 1 year for a person to be pain-free [10,36].
In the following cases, tailbone pain will be less likely reduced by the tailbone removal [11,65]:
No known cause of pain
No tailbone tenderness
No tailbone hypermobility (as determined by an X-ray)
Pain in the lumbar area of the back
Pain that radiates beyond the coccyx: into the buttocks or down the leg
Possible surgery complications [8,28]:
Surgical wound infection
Wound opening
Intestinal hernia
Pain persisting despite surgery
Bowel incontinence
Sagging of the pelvic floor muscles
Statistically, total coccyx removal is more effective and has fewer complications than partial removal [63].
References

Coccyx  InnerBody
Coccyx pain clinical presentation  Emedicine
Coccyx pain differential diagnosis  Emedicine
Coccyx pain workup  Emedicine
Coccyx pain treatment and management  Emedicine
Coccyx pain medication  Emedicine
Coccyx pain  Emedicine
Tailbone removal surgery  Tailbone Doctor
Coccygodynia  Emedicine
Coccygodynia treatment and management  Emedicine
Patel R et al, 2008, Coccydynia  PubMed Central
Maigne JY et al, 2001, Comparison of three manual coccydynia treatments: a pilot study  PubMed
Coccydynia  Lahey Hospital & Medical Center
Vossough A et al, A Unique Etiology of Intractable Coccygodynia  Coccyx.org
Smallwood Lirrete L et al, 2014, Coccydynia: An Overview of the Anatomy, Etiology, and Treatment of Coccyx Pain  PubMed Central
Balabin B et al, 2006, Coccygectomy for coccydynia: case series and review of literature  PubMed
Wray CC et al, 1991, Coccydynia  The Bone and Joint Journal
Pennekamp PH et al, 2005, Coccygectomy for coccygodynia: does pathogenesis matter?  PubMed
Kim NH et al, 1999, Clinical and radiological differences between traumatic and idiopathic coccygodynia  Coccyx.org
Marx FA ez al, 1996, Coccydynia/Levator Syndrome, A Therapeutic Test  Coccyx.org
Coccyx pain caused by previous medical procedures  Coccyx.org
Suduca P, 1985, Anorectal neuralgia PubMed
Moon SG et al, 2012, Acute coccydynia related to precoccygeal calcific tendinitis  PubMed
Richette P et al, 2008, Coccydynia related to calcium crystal deposition  PubMed
Haasper C et al, 2007, Coccydynia due to a benign notochordal cell tumor  PubMed
Maigne JY et al, 2005, Treatment of chronic coccydynia (CC) by intrarectal manipulation. A randomized single-blinded study  Coccyx.org
Franzmayer C, 1999, Therapies successful on pain in coccygeal area  Coccyx.org
Zoon NL et al, 1997, Repair of a long-standing coccygeal hernia and open wound  PubMed
Foye P et al, 2010, Psychological versus Physical Pain Descriptors in Patients with Tailbone Pain  Coccyx.org
Maigne JY et al, 2012, Postpartum coccydynia: a case series study of 57 women  PubMed
Burnei G et al, 2007, Acute osteomyelitis–special cases with particularities related to specific locations  PubMed
Duncan L et al, 1991, Glomus tumor of the coccyx. A curable cause of coccygodynia  PubMed
Yang KC et al, 1989, Cystic sacrococcygeal lesions  PubMed
Foye PM et al, 2009, Coccyx cushions for tailbone pain: donut cushions versus wedge cushions  Coccyx.org
Treatment for coccydynia (tailbone pain)  Spine-health
Coccygectomy surgery for coccydynia (tailbone pain)  Spine-health
Francis M, What can I do to ease the pain in my tail bone?  Parents.com
Symphysis pubis dysfunction  GPNotebook.co.uk
Faubion SS et al, 2012, Recognition and Management of Nonrelaxing Pelvic Floor Dysfunction  PubMed Central
Exercise for coccyx pain  Coccyx.org
Prendergast SA et al, 2004, PT and PNE  Jmweissmd.com
Kegel exercises: a how-to guide for women  Mayo Clinic
Deniz R et al, 2014, Ankylosing spondylitis and a diagnostic dilemma: coccydynia  PubMed
Ankylosing spondylitis  Spondylitis Association of America
Travell JG et al, 1993, Myofascial Pain and Dysfunction: the Trigger Point Manual, Volume 2
Maigne JY et al, 1994, Idiopathic coccygodynia. Lateral roentgenograms in the sitting position and coccygeal discography  PubMed
Idiopathic coccygodynia. Analysis of fifty-one operative cases and a radiographic study of the normal coccyx  Coccyx.org
Pilonidal cyst and sinus, clinical presentation  Emedicine
Muscle spasm or tightness causing coccyx pain  Coccyx.org
Piriformis syndrome  Emedicine
About sacrococcygeal teratoma  The Children's Hospital of Philadelphia
Tarlov cyst information  Tarlov Cyst Disease Foundation
Tarlov cyst: case report and review of literature:  Pubmed Central
Ehlers-Danlos syndrome  Coccyx.org
Foye PM, Treatment of coccydynia by injection of local anesthetic to the ganglion Impar  Coccyx.org
Joint pain, coccyx  The Pain Clinic
Hope ER et al, 2012, Coccygeal Fracture Pain Cured by Sacral Neuromodulation: A Case Report  Wiley Online Library
Pudendal nerve and its pivotal role in pelvic floor dysfunction and pain  International Continence Society
Lim SJ et al, 2010, Ganglion Impar Block With Botulinum Toxin Type A for Chronic Perineal Pain -A Case Report  PubMed Central
Carrol I et al, 2009, Sympathetic Block with Botulinum Toxin to Treat Complex Regional Pain Syndrome  PubMed Central
Chiarioni G et al, 2011, Chronic proctalgia and chronic pelvic pain syndromes: New etiologic insights and treatment options  PubMed Central
Bharucha AE et al, 2008, Functional and Chronic Anorectal and Pelvic Pain Disorders  PubMed Central
Karadimas EJ et al, 2011, Surgical treatment of coccygodynia: an analytic review of the literature  PubMed Central
Anal Abscess/fistula  American Society of Colon & Rectal Surgeons
Maigne JY et al, 1999, Instability of the coccyx in coccydynia  The Journal of Bone & Joint Surgery
Fractured coccyx (tailbone)  University of North Carolina Wilmington Abrons Student Health Center
Tailbone trauma – aftercare  MedlinePlus
Maigne JY et al, 2011, Chronic coccydynia in adolescents. A series of 53 patients. PubMed
Williams S et al, 2012, Kinesio taping in treatment and prevention of sports injuries: a meta-analysis of the evidence for its effectiveness  PubMed
Mostafavifar M et al, 2012, A systematic review of the effectiveness of kinesio taping for musculoskeletal injury  PubMed
Protruding coccyx bone  Coccyx.org
Dislocated tailbone  Tailbone Doctor
Giamberardino MA et al, 2011, Myofascial pain syndromes and their evaluation  Best Practice & Research in Clinical Rheumatology
Relaxin  Encyclopaedia Britannica
Stress Fractures of the Foot and Ankle  OrthoInfo
Maigne JY, 1998, Treatment strategies for coccydynia  Coccyx.org
Tail bone pain finally gone after 11 years  Coccyx.org
Understanding chordoma  Chordoma Foundtaion