Myofascial Pain Syndrome Definition
Myofascial pain syndrome is a chronic regional musculoskeletal pain disorder with trigger points in the muscles and referred pain in distant body parts (1). For example, applying pressure to the shoulder blade muscles can trigger pain in an arm. The pain supposedly arises from the fascia — a thin sheath of connective tissue wrapped around the muscles.
Synonyms: myofascial pain syndrome (MPS), chronic myofascial pain (CMP), myofascitis
NOTE: The information in this article bases on a limited number of studies. According to some authors, there is insufficient scientific evidence about the existence of trigger points and effectiveness of current treating techniques (21).
Causes and Risk Factors
Repetitive muscle overload or injuries in sports, such as golf, weight lifting or running, or due to carrying heavy bags, playing an instrument, such as violin, piano or drums, or due to obesity, pregnancy or breastfeeding
Poor posture (rounded shoulders) during prolonged sitting (study, computer work) or standing in combination with lack of exercise
Psychological stress, such as anxiety or depression
Acute muscle injury: contusion or strain
Osteoarthritis, rheumatoid arthritis, systemic lupus erythematosus (SLE) (19)
Nerve root compression due to bulging or herniated disc in the spine
Visceral pain: inflammation of the internal organs (appendix, gallbladder, stomach), angina pectoris (in ischemic heart disease), kidney stones
Lifestyle issues: lack of sleep, smoking
Cold weather or sleeping in front of air condition
Hormone imbalance: hypothyroidism, hyperuricemia, hypoglycemia or estrogen deficiency after menopause
Nutritional deficiencies: iron deficiency anemia or low blood levels of calcium, potassium or vitamins B1, B6, B12, C or D
Leg length discrepancy
Scoliosis (sideways curvature of the spine)
Connective tissue diseases, such as Marfan and or Ehlers-Danlos syndrome
References: (1,3,6,20,24)
Myofascial pain can appear at any age and affects men and women equally (20).
Symptoms and Signs
Muscle Knots
One or more muscle knots–tender nodules–and taut bands–rope-like indurations under the skin, also called myofascial adhesions or "muscle guarding" (reflex spasm)–can be detected with the fingers in various parts of the body (see below) (1).
Myofascial Pain and Trigger Points
The pain is usually limited to one body region, for example, upper or lower back, is deep and dull, mild or shooting, burning, throbbing or cramp-like and can have a sudden or gradual onset. It can be constant or waxing and waning and present at rest or only during activity (1).
Trigger point characteristics:
Snap, pinch or pressure upon the muscle knots triggers muscle twitches at the site of the snap
Continuous pressure lasting more than 5 seconds (19) triggers pain and abnormal sensations (paresthesia), such as tingling, pins and needles, coolness or excessive sweating in distant body parts (referred pain) and a "jump sign"–a movement of the body part "away" from the pain (1).
The pain threshold in the skin overlying the muscle knots can be decreased, while in other skin areas it remains normal (1). Except for lowered pain threshold, skin sensations during the examination are normal (3).
Trigger point types:
Active trigger points are painful upon pressure.
Latent trigger points are not painful upon pressure; they can eventually develop into active trigger points.
Reference: (1)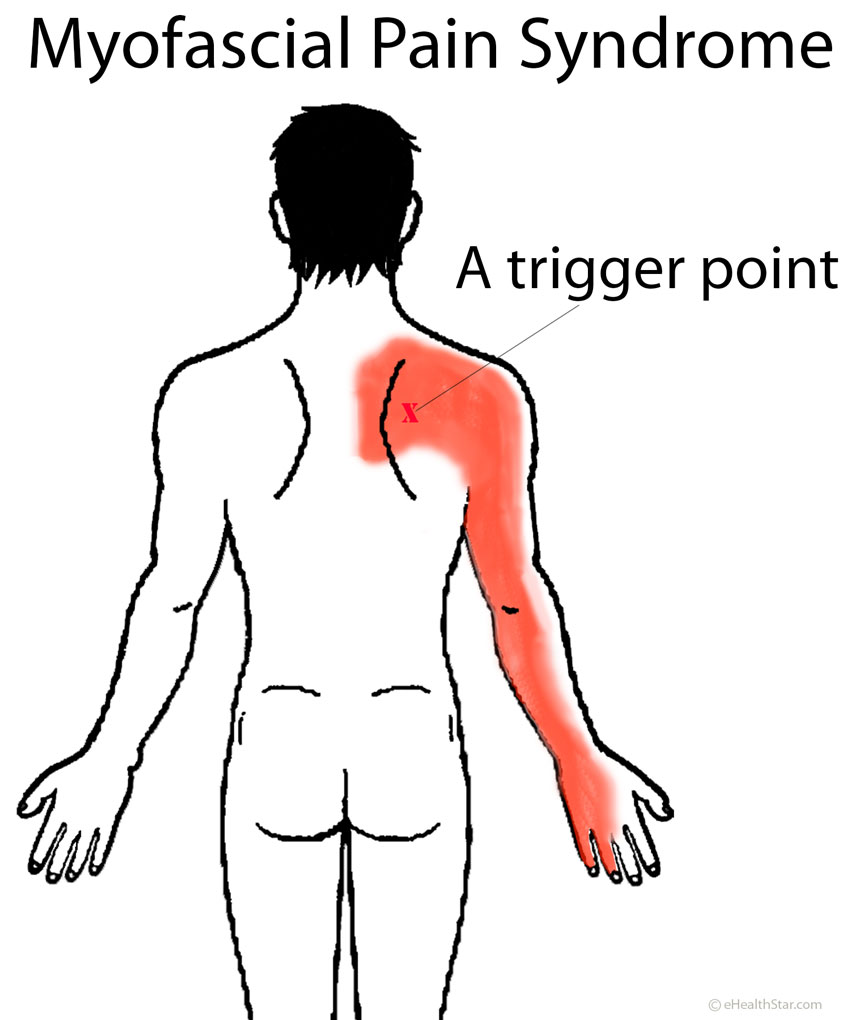 Picture 1. Myofascial pain arising from the shoulder blade area:
Pressure on a trigger point can cause pain over the shoulder blade and down the arm.
Other Symptoms
Muscle stiffness, fatigue, weakness (but no significant muscle wasting), incoordination, restriction of mobility (decreased range of motion) in related joints can appear.
The syndrome can be associated with a headache, migraine, poor memory, insomnia, temporomandibular joint dysfunction or fibromyalgia.
Reference: (1)
Trigger Points Locations
For detailed locations of trigger points all over the body–from the head to the feet–check this symptoms checker.
Neck and Head
Trigger points in the neck can often be identified in persons with a migraine, tension headache or a headache after an injury, such as whiplash injury, and in those with temporomandibular joint dysfunction, toothache and sinus pain (1).
Symptoms can include pain and tingling in the neck that radiate to the arms, headache, dizziness, nausea, insomnia, excessive tearing and sweating, tinnitus, drooping eyelid (ptosis) on one side of the face, dizziness and impaired balance.
Signs:
Differential diagnosis: wry neck or torticollis, neck sprain, fibromyalgia, degenerative disc disease, spondylitis, thoracic outlet syndrome
Reference (4)
Dry needling may be an effective treatment for myofascial pain in rotator cuff muscles but more research is warranted.
Trapezius strain is characterized by discomfort, tightness and muscle knots between the shoulder blades. Pain and tingling can radiate to the shoulders, neck and head. Causes include poor posture, repetitive lifting, workout exercises, such as pull-ups, tilting the head sideways when using the phone, scoliosis and leg length discrepancy (2).
Lower Back – Myofascial Lumbar Strain
Muscles along the spine in the lower back are most commonly affected (10).
Disorders of the joints between the lumbar vertebra (facet joints) can cause myofascial pain in the lower back (11).
One possible cause of myofascial lumbar sprain is repetitive pain from kidney stones, which may result in trigger points in the lower back. Pressure on these points may trigger pain similar to one caused by kidney stones (1).
Serratus anterior muscles on both sides of your chest, below the armpits, help raise your upper arms forward and upward, for example, during sprint, workout exercises (push-ups, bench presses) and expand your chest during breathing in. Repeated sprints, prolonged running or prolonged hard coughing can cause pain between and below the shoulder blades and on the inner sides of the arms down to the pinky and ring finger (Picture 2); the pain can be aggravated by deep breathing.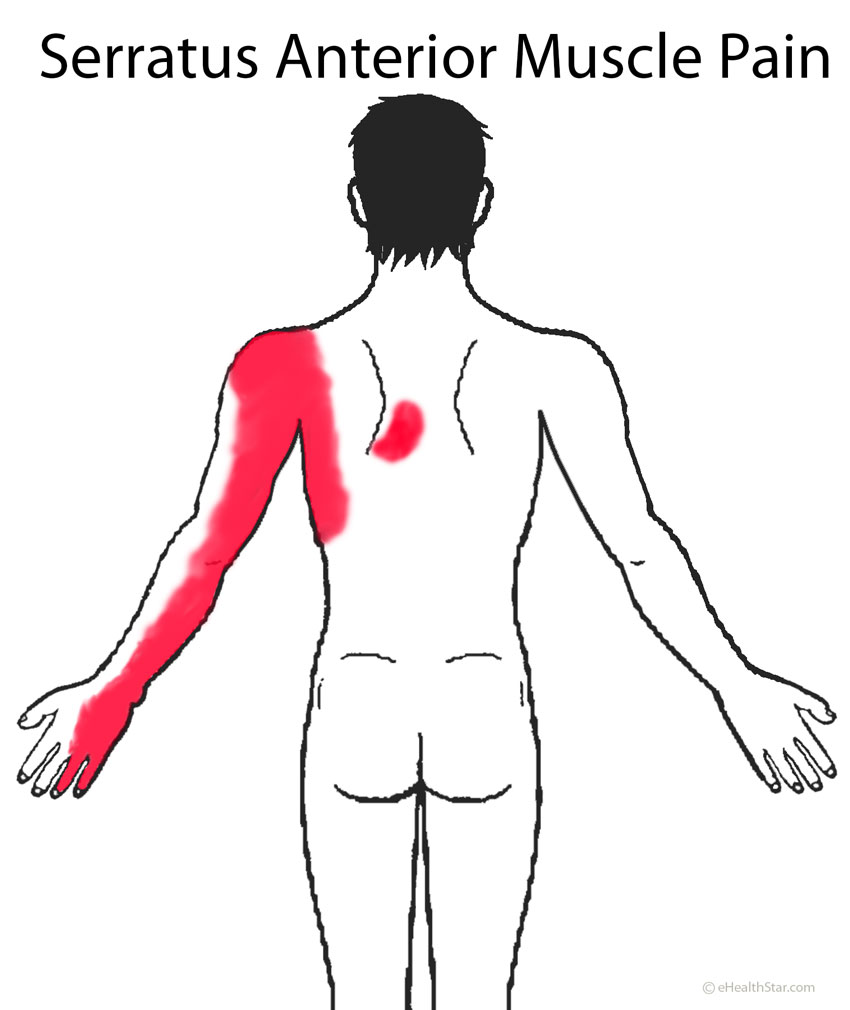 Picture 2. Serratus anterior muscle pain distribution:
on the side of the chest, below the shoulder blade
and down the inner side of the arm
Buttocks – Piriformis Syndrome
The piriformis muscle originates at the lumbar spine in the lower back and ends on the top of the femur (upper leg bone) on each side. The irritation of the muscle due to repeated prolonged running or fall on the buttock, can cause muscle knots and swelling in the muscle and compression of the sciatic nerve (17).
Pain can appear in the buttock, hip, coccyx or groin and can radiate down the back of the thigh, into the calf or foot, usually only on one side. The pain resembles sciatica ) sciatica (pain in the lower buttocks that radiates down the back of the thigh (10).
Applying pressure on trigger points in the buttock muscle can trigger pain mimicking sciatic pain (19).
Myofascial Pelvic Pain (MFPP) in Women
Trigger points are in the pelvic floor muscles (around the anus and vagina). Pain may radiate to the lower back, abdomen or thighs.
Causes and risk factors: birth trauma, chronic poor posture, repetitive movement patterns, joint hypermobility, leg length discrepancy, scoliosis, pelvic torsion, surgery, childhood falls, physical or sexual abuse
MFPP may be caused or it may result in urinary urgency or frequency (overactive bladder), irritable bowel syndrome (IBS), interstitial cystitis/painful bladder syndrome, urge incontinence, constipation, painful intercourse (dyspareunia), endometriosis, pain in the vulva (vulvodynia), coccyx pain or pudendal neuralgia.
Pain may be also triggered by menstruation, prolonged sitting or walking, bowel movements or intercourse.
Reference: (24)
Thighs – IT Band Syndrome
Iliotibial (IT) band is a band of fascia that runs from the hip over the muscles on the front side of the thigh and ends below the knee. Overstretching of the IT band can cause stinging pain, swelling or underskin thickening on the outer side or above the knee or along the entire length of the IT band.
Main causes include repetitive running, hiking, cycling, rowing and weight lifting.
Calf
Trigger points in the gastrocnemius muscle in the calf can cause calf cramps at night (27).
Feet – Plantar Fasciitis
Pain in the soles of the feet in plantar fasciitis is technically not myofascial pain since it does not arise from muscle fascia but from a thick sheet of connective tissue called plantar fascia. Causes of plantar fasciitis include prolonged walking, running or standing. The main symptom is the pain in one or both soles in the morning, which improves with walking. The pain can be prevented by feet massage before first steps in the morning.

Video 1. Myofascial syndrome: Trigger points
Diagnosis
A doctor can usually make a diagnosis of myofascial pain by physical examination. Electromyography (EMG) can detect muscle fatigue, ultrasound can detect local twitch response and thermographic examination may detect hot spots.
Myofascial pain can resemble fibromyalgia. The two conditions can also appear together.
Chart 1. Myofascial Pain vs Fibromyalgia

Myofascial Pain
Fibromyalgia
Pain characteristics
Trigger points — pressure causes pain in the trigger point and in a distant area
Tender points — pressure causes pain only in the tender point
Pain distribution
Localized, non-symmetrical
Generalized, symmetrical
Jump sign
Yes
No
Fatigue
Sometimes
Usually
Other conditions that can mimic myofascial pain:
Chronic fatigue syndrome (CFS): persistent, profound fatigue not relieved by rest, various vague pains
Muscle strain: localized pain, tenderness and swelling
Tendonitis or tendinitis: pain near the joints (elbow, knee, above the heel) aggravated by movements, tenderness to touch, swelling
Neuropathy: pain, numbness and tingling in feet and hands in a "stockings and gloves pattern;" causes include diabetes, alcoholism, vitamin deficiencies, injury
Referred pain in heart, gallbladder, pancreatic disorders; the pain radiates into the left or right shoulder or between shoulder blades
Complex regional pain syndrome (CRPS): burning pain and hypersensitivity to temperature, usually in a limb
Central pain syndrome includes burning pain, tingling and hypersensitivity to touch and temperature; it can occur after spinal cord injury or in neurological disorders, such as multiple sclerosis, Parkinson's disease or stroke.
Polymyositis and dermatomyositis: symmetrical muscle weakness in the limbs, skin rash (usually after age of 45)
Polymyalgia rheumatica: symmetrical stiffness in the pectoral girdle muscles and around the hips (usually after age of 65)
Conditions that can mimic muscle knots:
Rheumatoid nodules
Ganglion cyst, for example, in the wrist, finger, behind the knee or on top of the foot; may be painful or not
Enlarged lymph nodes in the back of the head, in the front of the neck, in the armpits, groin or behind the knee (in lymphoma or metastatic cancer)
Contracture deformity: replacement of elastic with nonelastic tissue in the skin or muscles due to injury, burns, nerve damage or prolong immobilization
Neurofibromatosis
Nodules in infections, such as tuberculosis, leprosy, syphilis and leishmaniasis
Treatment of Myofascial Pain Syndrome
1. Correction of the Underlying Causes
Correction of bad posture, leg length discrepancy, sleeping habits, diet, coping with stress, decrease of intensity or frequency of exercise, other lifestyle changes and treatment of eventual chronic infections may be needed before the start of active treatment.
2. Stretching Exercises (Spray-and-Stretch)
Stretching exercises can help in early phase of myofascial pain that is limited to one body area (1).
Spray the sore are with vapocoolant spray and stretch the muscle but only until the pain appears (1). Initially, a physiotherapist can be involved.
3. Trigger Point Pressure Release (Direct Release)
A therapists applies increasing pressures along the affected muscle with his fingers until he identifies a muscle knot and maintains pressure until the tension in the knot is released (1). During the procedure, a therapist can spray the affected area with a vapocoolant spray or inject a local anesthetic into the knot to prevent pain during the procedure.
Contraindications for trigger point release: malign tumor, aneurysm, acute rheumatoid arthritis, healing fracture, severe osteoporosis, advanced diabetes mellitus (9).
4. Self Myofascial Release Techniques (SMRT)
Roll over a foam roller or ball using your body weight. Some physiotherapists advise holding the pressure at trigger points for up to 20 seconds. The exercise can be quite painful.
SMRT Benefits
In some studies, foam rolling over the hamstring muscle for up to 10 seconds increased the range of motion (ROM) of the leg by 4.3% (12), and rolling over the quadriceps muscle for 2 minutes increased ROM in the knee for 10 degrees (13).
In one study in individuals with neck and lower back pain, using foam roller for up to 12 minutes was associated with decreased pain (14). Myofascial release can also reduce pain in tennis elbow (epicondylitis) (15).
Compression Tools for Myofascial Pain
A foam roller
A tennis ball or Lacrosse ball
A rounded stick
5. Trigger Point Injection and Dry Needling
According to several studies, an injection of a local anesthetic, such as lidocaine, can inactivate trigger points (1,6). The conclusion of one 2009 systematic review of studies was that there is insufficient evidence about the effectiveness of dry needling in myofascial pain relief (34).
In one study, needle electrical intramuscular stimulation (NEIMS) of shoulder had positive effects on cervical myofascial syndrome (7).
Side effects and risks of injections and dry needling may include bleeding, hematoma, pain, fainting, infection and lung puncture (pneumothorax) (11,32).
Contraindications. Individuals taking aspirin or other anticoagulants and those with bleeding disorders, local or systemic infections, allergy to anesthetics or acute muscle injury should not get muscle knot injections or dry needling (33).
6. Home Remedies
Ice packs for 20 minutes, when applied within 72 hours after an injury can reduce inflammation and pain (6).
Heat pads, hot showers or whirlpool massage can be effective after the third day after the injury (4,6).
Appropriate chair and mattress can help prevent the pain recurrence.
 7. Muscle Strengthening
After the myofascial pain is relieved, exercise to improve the strength of the affected muscles can help prevent recurrence of the pain (19).
8. Other Possibly Effective Treatment of Myofascial Pain
Lidocain or diclofenac sodium patch
Transcutaneous electrical  nerve stimulation
9. Insufficient Evidence
There is insufficient evidence about the effectiveness of the following methods in relieving myofascial pain (1,5,6):
Classical mechanical massage (8)
Chiropractic manipulation
Rolfing structural integration (a type of soft tissue mobilization by aligning and balancing the body with gravity)
Cupping or myofascial decompression
Fascial unwinding (a type of myofascial release in which a patient moves the body part to areas of ease in response to the therapist's touch) (16)
Acupuncture (22)
Shiatsu (ischemic acupressure) (6)
Ischemic compression
Kinesis myofascial integration (KMI) (25)
Botulinum toxin injections (23)
Therapeutic ultrasound
Cold laser therapy (low level light therapy) (8)
Topical analgesics: capsaicin, eucaliptus oil, menthol, peppermint and other herbal preparations
Oral drugs or supplements: tricyclic antidepressants, gabapentin (an anticonvulsant), glucosamine, methylsulfonylmethane, copper, zinc, vitamin C, vitamin E
10. Little or No Help
Immobilization of any kind (cervical collars, slings, braces) can worsen muscle weakness, so it should be avoided (2,28).
Nonsteroidal anti-inflammatory drugs, such as aspirin, diclofenac, ibuprofen, indomethacin, ketoprofen or naproxen, when used alone are of only little help (1,5,6).
Prolotherapy–injection of irritating substances, such as sucrose, in order to trigger tissue repairing process
Steroid injections (19)
Muscle relaxants do not help, since myofascial pain is not caused by muscle spasms (1).
Reflexology–applying pressure on certain spots on the feet and hands
Myofascial pain syndrome is not an indication for surgery (26).
Prognosis
Myofascial pain can be cured successfully by a lifestyle change and physiotherapy, but recurrence is common (3). When myofascial pain is not managed appropriately, it can develop into fibromyalgia (19).
When there is no pain relief after 8 weeks of treatment, it is necessary to search for underlying conditions, either physical or psychological (25).