What is atypical pneumonia?
Atypical pneumonia is a common lung infection caused by atypical bacteria, such as Mycoplasma, Chlamydophila and Legionella [1]. It develops gradually with a dry cough and low-grade fever as opposed to sudden fever and coughing up mucus in bacterial pneumonia [1]. Besides that, atypical bacteria do not have cell walls, so they cannot be treated by classical antibiotics, such as penicillin or amoxicillin.
By one definition, atypical pneumonia is bacterial pneumonia caused by microorganisms other than Streptococcus pneumoniae, Staphylococcus aureus, Haemophilus influenzae or Moraxella catarrhalis [1].
What is walking pneumonia?
Walking pneumonia is pneumonia that is not severe enough to require bed rest. In the medical literature, the term walking pneumonia is usually used for atypical pneumonia caused by Mycoplasma, but mild pneumonia caused by Chlamydophila, Legionella, viruses or fungi may also not require bed rest.
Is walking pneumonia contagious?
You can catch Mycoplasma pneumoniae or Chlamydophila pneumoniae when you are in close and prolonged contact with someone who has atypical pneumonia and coughs and sneezes [6]. Outbreaks in crowded settings, such as college dorms or prisons, can occur [6].
Symptoms and Signs in Adults
The first symptom of atypical or walking pneumonia is usually slowly worsening dry cough, especially at night, followed by low-grade fever (or no fever), night sweats and, occasionally, chest pain, muscle pain, sore throat, hoarseness, pinkeye, stomach pain, diarrhea, or headache [4,10]. Shortness of breath and chest pain during deep breathing (pleuritic pain) are uncommon [4].
The main late symptoms are fatigue and a lingering dry cough or coughing up mucus, which may persist for several weeks or months [4].
Signs. In atypical pneumonia, very few signs, such as crackling sounds during lung auscultation and occasional skin rash (erythema multiforme or nodosum), can be observed [4,17].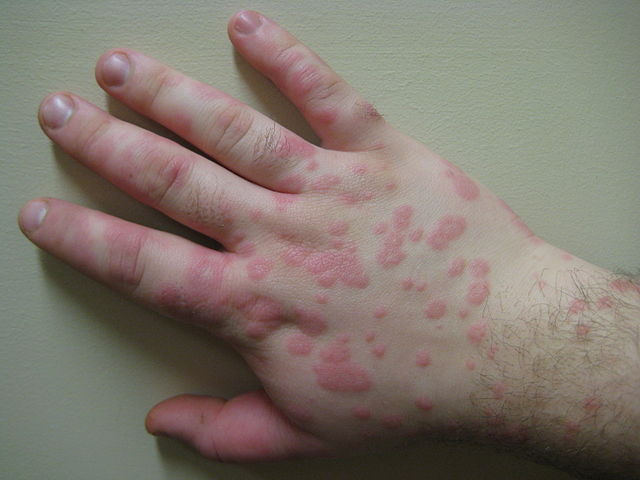 Picture 1. Erythema multiforme – red itchy rash
can occur in atypical pneumonia.
(source: Wikimedia, Creative Commons license)
Pathology
Unlike in bacterial pneumonia, in which the lung's air sacs are filled with fluid (consolidation), in atypical pneumonia, the spaces between the air sacs are inflamed (interstitial pneumonia) [2].
Primary atypical pneumonia develops independently of other diseases and secondary atypical pneumonia develops as a complication of other infection.
Mycoplasma Pneumonia
Myocoplasma pneumonia is a type of atypical pneumonia caused by the bacterium Mycoplasma pneumoniae.
Who gets infected? Anyone can get infected but children and young adults between 5-20 years of age are at greatest risk. Outbreaks occur mainly in late summer and autumn in schools, military and prisons [3].
Mycoplasma spreads from person to person by coughing and sneezing (droplet infection). To get Mycoplasma pneumonia, you usually need to be in a close and prolonged contact with an infected person [6,17]. Contagiousness period (the time during which an infected person can spread microbes) is probably less than 10 days [7]. The incubation period (the time from catching the bacteria to first symptoms) is 1-3 weeks [3,17].
Picture 2. Mycoplasmal pneumonia – an X-ray image
showing scattered patches in both lungs
(source: Radiopedia, CC license)
Prognosis. In otherwise healthy individuals, full recovery is expected, even if they are not treated with antibiotics. Immunity to Mycoplasma does not last long so the infection can occur again later [17]. According to one estimation, the mortality rate for Mycoplasma pneumonia is 1.4% [1]. Rare complications are a fulminant course of infection and acute respiratory distress syndrome (ARDS), which can be life-threatening [4].
Chlamydophila pneumoniae Infection
The bacterium Chlamydophila pneumoniae can cause atypical pneumonia.
Spread is by droplet infection from person to person by coughing or sneezing [10]. The incubation period is 3-4 weeks.
Who gets infected? Anyone, but mostly school-aged children and military recruits [9,10].
Prognosis. Chlamydia pneumoniae infection is usually mild, but may last for several weeks or months; in older individuals, it may be life-threatening; mortality among individuals treated with antibiotics is ~5% [9,11].
Diagnosis
Diagnosis of walking pneumonia cannot be made from symptoms and signs alone.
An X-ray usually shows patchy infiltrates (bronchopneumonia) [5,9]. Pneumonia that is so mild that does not make you feel sick, and the only evidence of the disease are white patches on an X-ray image, is called silent or occult pneumonia.
Other possible tests:
Antibodies in the blood
Polymerase chain reaction (PCR)
Differential Diagnosis
Diseases similar to atypical pneumonia:
Acute bronchitis caused by viruses or Mycoplasma
Mild flu
Asthma
Q fever caused by Coxiella burnetii
Treatment
Antibiotics
Tetracyclines: doxycycline
Macrolides: azithromycin, clarithromycin, erythromycin (also for children) [12]
Fluoroquinolones: levofloxacin, moxifloxacin
References: [1,8,12]
Cough Medicines
There is insufficient evidence about the benefits of over-the-counter anti-cough medications (antitussives) and mucus thinners (mucolytics, expectorants) in the treatment of acute pneumonia [15].
Natural Home Remedies
Drink enough fluids to prevent dehydration.
Using the room humidifiers can help prevent a cough [14].
There is insufficient evidence about honey and ginger in reducing cough in acute pneumonia [16].
Recovery Time
If you start to treat walking pneumonia early, you may feel better in few weeks, but when not treated, it can last for few months [1].
Walking Pneumonia in Children
Atypical pneumonia rarely occurs in children between 2 month and 5 years of age [1].
Symptoms include a dry cough, malaise, fever and headache [13].
Treatment is with antibiotics, such as azithromycin, clarithromycin or erythromycin [12]. Over-the-counter cough medicines may provide some relief but they should not be used in children younger than 5 years [14].
Besides the lungs, Mycoplasma can affect other organs, such as the throat (croup), middle ear (otitis media), skin (rash), joints (reactive arthritis), heart muscle (myocarditis), heart lining (endocarditis), heart sac (pericarditis), nerves (Guillain-Barré syndrome), spinal cord (transverse myelitis) and brain (encephalitis) [9,13].
Toddlers who cough more likely have acute bronchitis or viral pneumonia than atypical pneumonia caused by Mycoplasma or Chlamydophila.
Prevention
Currently–as of May 2016–no vaccines against to prevent atypical pneumonia caused by Mycoplasma, Chlamydia or Legionella are available [18].
You may be at lower risk to get atypical pneumonia if you wash your hands regularly, avoid picking nose and crowded settlements [18].