What is the Valsalva maneuver?
The Valsalva maneuver is a forceful attempted exhalation against a closed airway. It can be used to clear the ears, unintentionally during coughing or a bowel movement or as a diagnostic or treatment aid.
How it is performed
Instruction: Take a deep breath, close your mouth and pinch your nose with the thumb and index finger and attempt to breathe out gently, keeping your cheek muscles tight, not allowing them to bulge out (Picture 1).
If you are using the maneuver to clear your ears and you feel you need to struggle with it, do not use it, because you may damage your ears.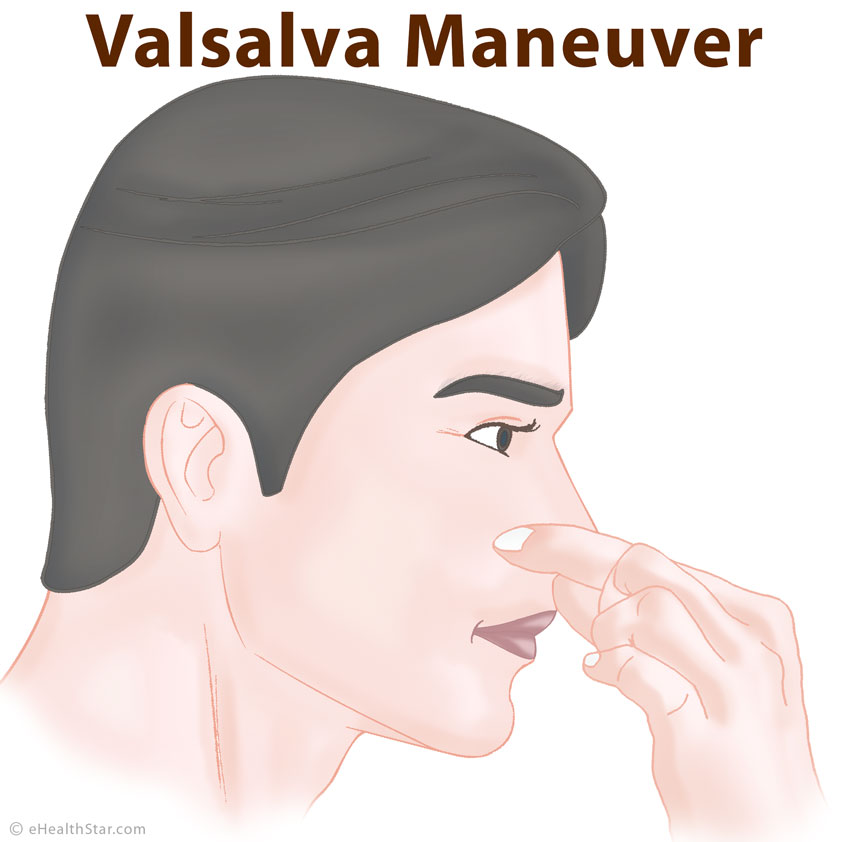 Picture 1. The Valsalva maneuver
Types of the Valsalva maneuver:
"Do it yourself," as described above
"Standard" or "quantitative:" blowing out with an open glottis into a tube of a sphygmomanometer against the pressure 40 mm Hg [14]
Unintentional, for example, during coughing or a bowel movement (with a closed glottis–the space between the vocal cords–but with an open nose)
NOTE: Merely holding the breath, without attempted exhalation or physical activity, like in the game "who can hold the breath longer," is not already the Valsalva maneuver.
Physiological Effects
Valsalva maneuver increases the pressure in the nose, maxillary sinuses (on both sides of the nose), mouth, throat (pharynx and larynx above and below the vocal cords), Eustachian tubes, middle ear, inner ear [55], chest (intrathoracic pressure), eye (intraocular pressure), within the skull (intracranial pressure), in the cerebrospinal fluid (CSF), in the abdomen and rectum [5,43,51].
Phases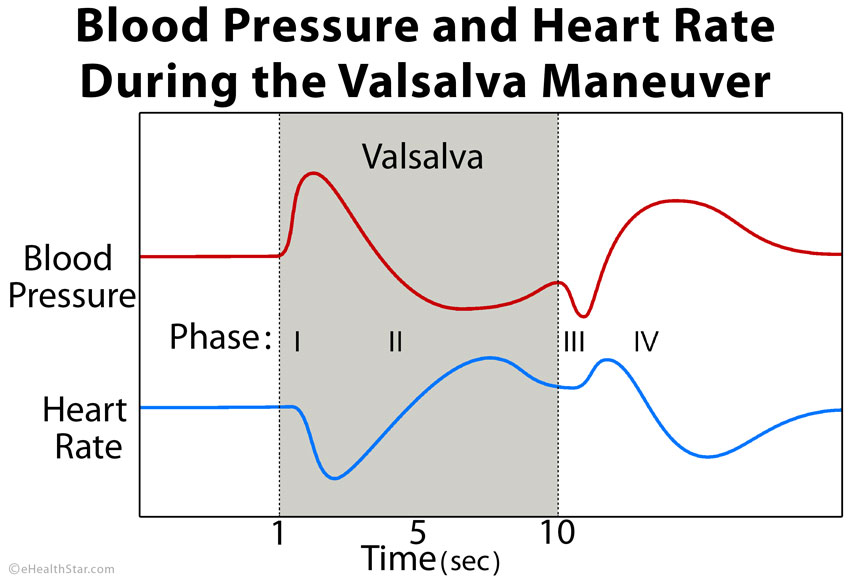 Picture 2. Mean arterial blood pressure and heart rate changes during the Valsalva maneuver.
Fluctuations of blood pressure using 40 mm Hg blowing pressure
are about 20 mm Hg above and below the normal levels [43].
Phase 1. The onset of blowing. The pressure within the chest and abdomen increases and presses upon the arteries in the chest, which results in an increase in mean arterial blood pressure. This activates the baroreceptor reflex, which results in an increase in parasympathetic (vagal) activity and hence in a drop in heart rate. The increased intrathoracic pressure also reduces the amount of blood that comes into the right atrium (decreased venous return or preload).
Phase 2. A decrease of venous return results in a lower amount of blood that is ejected from the heart, which results in a decrease of central venous pressure and consequently in a decrease of mean arterial blood pressure. This activates the baroreflex, which results in a decrease of the parasympathetic (vagal) activity and consequent increase of the heart rate, and in an increase in sympathetic activity, which constrict the arteries (an increase of peripheral resistance), which results in a slight rises of the blood pressure at the end of phase 2 (2b).
Phase 3. Relaxation – the end of the maneuver. The intrathoracic pressure decreases, so the intrathoracic arteries widen, which results in a brief drop in blood pressure. At the same time, the venous blood fills the heart.
Phase 4. The heart ejects the blood into the arterial system against increased peripheral resistance (which has developed in phase 2), so the blood pressure rises again (blood pressure overshoot). This activates the baroreflex, which results in a drop in heart rate (bradycardia). Eventually, both the blood pressure and heart rate normalize.
Chart 1. Valsalva Maneuver

Phase

1

2a

2b

3

4

Intrathoracic pressure
Increased
Increased
Increased
Normal
Normal
Mean arterial blood pressure
Increased
Decreased
Increase*
Decrease*
Increased
Heart rate
Decreased
Increased
Decrease*
Increase*
Decreased
Sympathetic activity
Decreased
Decreased
Increased
Increased
Increased
Parasympathetic (vagal) activity
Increased
Increased
Decreased
Decreased
Increased
References: [5,25,62,68,71] NOTE: Increased and decreased means above the usual level, while increase and decrease mean just a change from the previous level, not necessary going above or below the usual level.
Uses
A variant of Valsalva maneuver is performed against a closed glottis (the space between the vocal cords) with or without a closed mouth and with an open nose. We perform this maneuver unintentionally during coughing, sneezing, gagging, vomiting, bending, sexual intercourse, straining during urination or a bowel movement due to constipation, lifting heavy objects or getting off the bed using arm and upper trunk muscles [5]. The maneuver is also used in sports, such as weightlifting, throwing, rowing, swimming, etc. This maneuver (with an open nose) does not affect the pressure in the mouth, nose, sinuses or ears.
Some coaches recommend using a short (1-2 sec) Valsalva maneuver as a speed accelerator during sprints [63], but there seems to be the lack of reliable studies about its effectiveness.
Valsalva maneuver does not occur during singing [60].
Compulsive Valsalva maneuver has been described in children [73] and individuals with autism [74].
Valsalva as a Diagnostic Aid
Valsalva maneuver can be used as a provocative test to check for:
An inguinal (groin) hernia [22]
Prolapse of the uterus, bladder or vagina (pelvic floor weakness) [11]
Varicocele (engorged veins in the scrotum) during ultrasound in a standing position [53]
Intrinsic sphincter deficiency in stress urinary incontinence [10]
A pinched nerve in the neck or lumbar spine (cervical or lumbar radiculopathy). The maneuver is positive when it triggers pain in the neck, shoulder, arm or lower back.
Eustachian tube dysfunction (ETD) [4,52]
Neurogenic orthostatic hypotension [50]
Chiari malformation (a congenital disorder of the cerebellum); the Valsalva maneuver (coughing) triggers a headache at the back of the head [9]
Cerebrospinal fluid (SCF) leak through the nose after long-term repeated use of the Valsalva maneuver [26]
Heart murmurs. Valsalva increases murmurs in hypertrophic cardiomyopathy and mitral valve prolapse and decreases them in atrial septal defects and aortic stenosis [1].
Congestive heart failure [65]
Abnormal connections between the mouth and maxillary sinuses (oroantral fistulas) after a tooth extraction [3]
Primary cough headache [14]
Function of the autonomous nervous system [25,59,62,67]:

An abnormal blood pressure response (for example, an absence of the blood pressure rise in phase 4) suggests an abnormality of the sympathetic system.
An abnormal heart rate response suggests an abnormality of the parasympathetic system.
Valsalva as a Treatment Aid (Benefits)
Valsalva maneuver can help:
Equalize the pressure between the middle ear and the ambient pressure (ear clearing) during scuba diving, driving from a steep hill, elevator descending, parachuting or plane landing [13] or in individuals with Eustachian tube dysfunction (ETD) [44]
Decrease ringing in the ears (tinnitus) [42]; it may increase tinnitus in some individuals [anecdotal reports]
Clear mucus and relieve pain in sinusitis [anecdotal reports]
Expel pus from a clogged ear in middle ear infection [15]
Voiding in older men with an enlarged prostate [35]
Stop hiccups [33]
Promote swallowing is individuals with difficulty swallowing [38,39]
Push the stool out in individuals with neurogenic bowel due to spinal cord injury [29]
Interrupt palpitations (supraventricular tachycardia (SVT), including atrial fibrillation) [32]; the maneuver alone is effective in only 5-25% cases [2,7]; it is also somewhat effective in children [37].
Modified Valsalva Maneuver
Modified Valsalva maneuver is used to terminate an attack of abnormal heart rhythm (arrhythmia) called supraventricular tachycardia (SVT); it includes blowing against a closed glottis followed by lying down face up and raising legs with the help of an assistant [2]. According to one Cochrane systematic review, the modified maneuver may be effective in 19-54% of cases and there is insufficient evidence to either recommend it or advise against it in SVT [79].
Valsalva, Pregnancy and Labor
During pregnancy, the pressure in the abdomen is increased, so pregnant women should avoid exercises that include Valsalva in order to further increase the pressure.
There is insufficient evidence about the benefit of the Valsalva maneuver (purple pushing) during the second stage of the labor [45,46,47,48]. Valsalva during labor may result in a rupture of an eardrum [24].
Valsalva and Stuttering
According to one hypothesis, the Valsalva mechanism may be involved in stuttering, but there seems to be the lack of studies on this topic [18].
Valsalva Dangers
For a healthy individual, a single Valsalva maneuver by using a moderate blowing force is probably not dangerous.
Clearing Ears Dangers
Clearing (popping) ears using a violent Valsalva maneuver during a plane flight or diving may cause a damage of the inner ear and may push unwanted material from the mouth into the middle ear [36,55]. The Toynbee maneuver–pinching the nose followed by swallowing–is considered safer [35] and equally effective [77]. Yawning may also effectively clear the ears [36].
Bowel Movement Dangers
Prolonged straining at the toilet can trigger fainting (defecation syncope) [69]. In individuals with both severe coronary heart disease and constipation, but unlikely in healthy individuals, straining at the toilet may trigger a heart attack. This may occur due to a significant drop in blood pressure and heart rate and artery dilation that result from a combination of Valsalva maneuver and irritation of the vagus nerve in the rectum by the pressure of the stool.
Weightlifting Dangers
Complications of repeated Valsalva maneuvers during weightlifting:
Fainting [50]
Transient global amnesia: temporary (<24 hours) confusion due to severe memory loss after repeated Valsalva maneuvers [28]
Spontaneous cerebrospinal fluid (CFS) leak (clear liquid dropping out from one nostril) [26]
Brain bleeding in individuals with brain aneurysms, heart attack in individuals with heart disease, or stroke in individuals prone to excessive blood clotting (insufficient evidence about the cause-effect relationship) [21,30,31]
Valsalva maneuver was previously believed to increase the trunk stability and strength during resistance (powerlifting) exercises, such as squat, deadlift and bench press, but this has not been confirmed by studies [6,16]. Valsalva maneuver may be equally effective as forced exhalation in maintaining strength during weightlifting [16].
In one study, during weightlifting, the mean blood pressure while using Valsalva was 311/284 mm Hg, and while using forced exhalation, it was 198/175 mm Hg [17]. Blood pressure as high as 480/350 mm Hg during weightlifting using Valsalva has been observed [21].
Valsalva Retinopathy
Valsalva retinopathy [8] means bleeding in front of the retina (the membrane that lines the eyeball and enables vision) due to Valsalva maneuver, for example, during severe coughing, straining on the toilet, blowing musical instruments (trumpet), bodybuilding, marathon running [64], labor or even pregnancy alone [34]. Symptoms may include temporary vision loss and floaters in the visual field [8]. Individuals with idiopathic thrombocytopenia are at increased risk of Valsalva retinopathy [58].
In one study, long-term (occupational) lifting of heavy weight was associated with increased risk of detachment of the retina [27].
Other Side Effects and Complications
Dizziness, vertigo [23] or fainting, for example, during playing brass instruments [43] or in individuals with diabetic neuropathy [25] or spinal cord disorders [61]
Fainting lasting for few seconds after vigorous coughing (cough syncope) in individuals with asthma, pulmonary hypertension or chronic obstructive pulmonary disease (COPD) (bronchitis, emphysema), especially in overweight ones [70,72]
Headache. Valsalva maneuver can be responsible for a headache during sexual intercourse, bending or straining at the toilet [14,75], migraine attack [75] or a sinus headache in sinusitis [76]. NOTE: A headache triggered by Valsalva can suggest a brain tumor or other serious disorder with increased intracranial pressure [54,76]
An inguinal hernia (after long-term coughing, straining at the toilet or weightlifting) [78]
Glaucoma (in high-resistance brass instrument musicians) [40,41]
Spontaneous pneumothorax in susceptible individuals, mainly young tall males (for example, during sexual activity [56], playing musical instrument or blowing balloons [57])
Sudden death (rarely) [38]
Contraindications for Valsalva Maneuver
Severe coronary heart disease or recent heart attack
Severely increased or decreased blood pressure
Aortic aneurysm
Severe dehydration or bleeding (hypovolemia)
Reference: [49]
Reversed Valsalva – Müller's Maneuver
Müller's maneuver is the opposite of the Valsalva maneuver and includes forced exhalation followed by an attempted forceful inhalation with a closed mouth and nose or just with a closed glottis.
The test can be used to evaluate weakness of the soft palate and throat walls in individuals with obstructive sleep apnea [19]; the test is considered unreliable [20].
The reversed Valsalva maneuver can also be used to equalize the pressure in the middle ears in individuals with patulous Eustachian tubes.