The gallbladder is a small sac that lies in the upper right abdomen underneath the lower edge of the liver (33) and is almost completely covered by the ribs (Diagram 1).
Medical terms and definitions:
The biliary system refers to the gallbladder and the ducts that carry the bile from the liver to gallbladder and from the gallbladder to the small intestine.
Biliary colic refers to sudden pain in the gallbladder or common bile duct.
Cholecystitis is an inflammation of the gallbladder.
MRI is magnetic resonance imaging.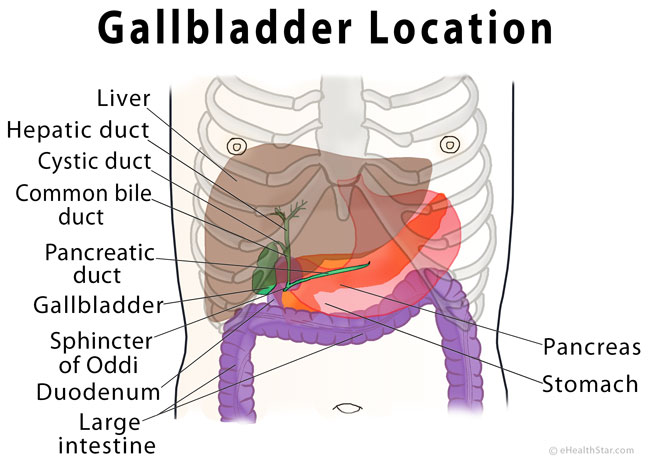 Diagram 1. The gallbladder is located below the right rib cage.
Where is gallbladder pain felt?
Gallbladder pain can be felt in the upper right abdomen below the lowest ribs, or in the upper central abdomen, below the breastbone.
Gallbladder Referred Pain
The gallbladder pain can be referred to the lower right chest, flank or back, right shoulder blade, between the shoulder blades or the right side of the neck (Diagram 2).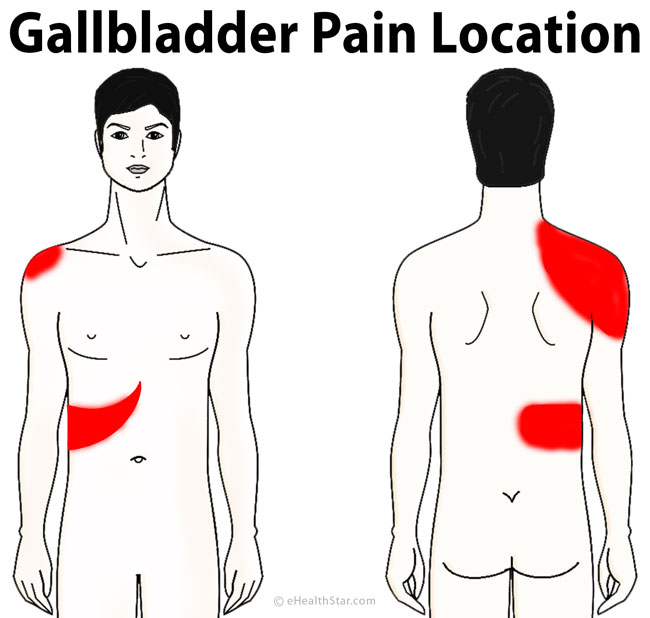 Diagram 2. Gallbladder pain and referred pain location
Can gallbladder pain be felt on the left side?
Gallbladder pain can extend from the right over the middle toward the left side of the abdomen, but the pain on the left side alone is not typical for gallbladder problems. In very rare cases, in which the liver and gallbladder are located on the left side, the pain from gallbladder would be on the left side.
What does gallbladder pain feel like?
Sudden mild pain that develops to moderate to severe dull and constant pain within 15-60 minutes and can last from several minutes to few days. The pain is steady, not wavy.
The pain can be aggravated by deep inhalation but not likely by the body movements.
It can flare up within few hours after large meals or at any time, commonly at night.
It is not relieved by antacids, vomiting, passing gas, a bowel movement or by changing body position.
It is recurrent; it occurs every few days, months or years.
References: (1,2,3,4)
How long does gallbladder pain last?
The pain duration:
In gallstones without gallbladder inflammation: several minutes to few hours
In gallbladder inflammation (cholecystitis): from 6 hours to few days
In gallbladder or biliary dyskinesia: at least 30 minutes
In gallbladder cancer: chronic, daily discomfort or dull pain
Other Symptoms and Signs of a Gallbladder Disease
Nausea or vomiting that occurs only when pain occurs (1)
Occasional symptoms: fever, jaundice, itchy skin, dark urine and pale stools
Occasional signs: tenderness to touch or a palpable lump in the right upper abdominal quadrant
Indigestion, dyspepsia after fatty meals, abdominal bloating, excessive belching, heartburn, constipation or diarrhea are not specific for a gallbladder disease – they can also occur in other abdominal disorders (1,2,4). Gallbladder issues do not seem to be directly connected with a headache, but some people believe they can trigger a migraine.
Gallbladder Pain Causes

Condition

Symptoms

Gallstones
No symptoms or recurrent RUQ* pain <6 hours, no fever
Gallbladder sludge
Usually no symptoms
Acute gallbladder inflammation
Recurrent RUQ pain >6 hours, often fever and nausea
Chronic gallbladder inflammation
Usually no symptoms
Gallbladder polyps
Usually no symptoms
Gallbladder cancer
Constant pain, weight loss
Sphincter of Oddi dysfunction
Recurrent RUQ pain >30 min
Inflammation of the bile duct (cholangitis)
RUQ pain, fever, jaundice, dark urine, gray stools
* RUQ = right upper abdominal quadrant
Gallstones in the Gallbladder (Cholelithiasis)
Gallstones can develop when the gallbladder empties slowly or when the bile contains too much cholesterol or bilirubin (3).
Risk factors for gallstones include female sex, obesity, rapid weight loss (>3 pounds/week), bariatric surgery, prolonged fasting, starvation, pregnancy, oral contraceptives, certain medications, diabetes type 2, increased breakdown of red blood cells, old age and family history of gallstones (1,2,3). There seems to be no clear connection between the type of diet and gallstones.
Gallstones can be present in the gallbladder for years without causing pain; the pain occurs when the stones block the cystic duct that goes out from the gallbladder and cause its distension.
Characteristics of pain in gallstones without inflammation:
Sudden, constant pain in the upper right abdominal quadrant, which typically lasts 1-6 hours (range: 30 minutes to more than 12 hours) (1,4)
No or only mild tenderness in the upper right abdominal quadrant (1,4)
No pain or other symptoms between the attacks (1)
Nausea or vomiting, which can occurs during but not between painful episodes
No fever
Diagnosis of gallstones can be made by ultrasonography. Treatment is by painkillers or, in recurrent attacks, by gallbladder removal.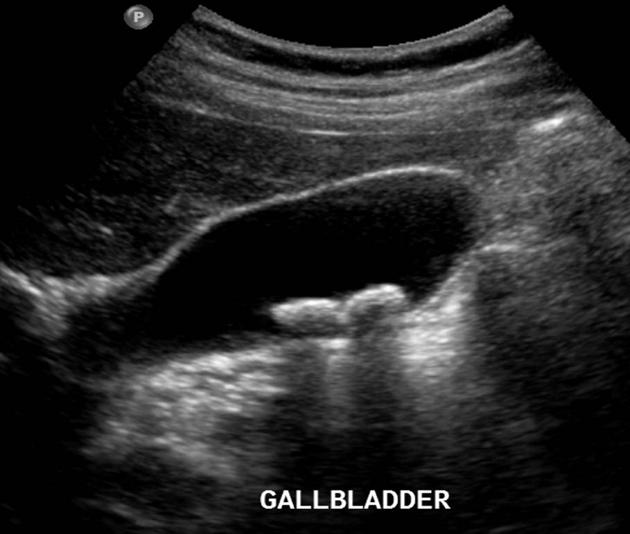 Picture 3. Gallstones – an ultrasound image
(source: Radiopedia, CC license)
Gallstones During Pregnancy
During pregnancy, the gallbladder empties slower, so it is more prone to develop gallstones, especially in women who had gallbladder disease before pregnancy. When surgery during pregnancy is required, it should be preferably done in the second trimester; both open and endoscopic surgery are considered safe (27).
Gallstones in Children
Gallstones in children are rare; risk factors include hemolytic anemia (for example, in sickle cell disease), obesity, Crohn's disease, surgical removal of the last part of the intestine (ileum) and prolonged fasting or artificial feeding.
Biliary sludge refers to small clumps of the concentrated bile that may either dissolve spontaneously or develop into gallstones (2). Biliary sludge can cause pain similar to pain from gallstones, or complications, such as cholecystitis, cholangitis or acute pancreatitis (12).
Diagnosis is by an MRI or the same investigation with a contrast, called MRCP. When the HIDA scan reveals poor gallbladder function, a doctor usually recommends gallbladder removal.
Gallbladder Inflammation (Cholecystitis)
Gallbladder inflammation (cholecystitis) is usually caused by gallstones but can also occur in a gallbladder without gallstones.
Characteristic of pain in gallbladder inflammation:
Sudden, constant pain in the right upper abdomen that may last from 6 hours to few days
Tenderness in right upper abdomen
Pain during inhalation when a doctor presses upon the gallbladder (Murphy's sign)
Other symptoms and signs of gallbladder inflammation can include nausea, vomiting, a palpable lump in the painful area, low-grade fever, excessive sweating and jaundice (2). NOTE: high fever (>101 °F or 38.3 °C) may speak for an abdominal infection.
Recurrent episodes of acute cholecystitis can result in chronic cholecystitis with shrunken gallbladder which may or may not cause any symptoms (14).
Diagnosis of cholecystitis is by ultrasound and blood tests. Treatment is by painkillers, antibiotics and surgical gallbladder removal (2).
Gallstones in the Biliary Duct (Choledocholithiasis)
The blockage of the common bile duct (Picture 1) by gallstones can result in:
Pain in the right upper abdominal quadrant lasting from several hours to days
Jaundice
Dark urine and pale stools
Fever and chills (in case of bile duct infection – cholangitis)
Reference: (1,4,15,16,18) 
Diagnosis and treatment are by endoscopic retrograde cholangiopancreatography (ERCP).
Biliary Pain Without Gallstones
Acute Acalculous Cholecystitis
Acute acalculous cholecystitis refers to acute gallbladder inflammation without gallstones.
Risk factors include prolonged fasting, diabetes mellitus and certain infections (2,10).
Gallbladder dyskinesia refers to a motility disorder of the gallbladder that is not related to bile stones or other organic abnormalities.
A spasm of the sphincter of Oddi at the end of the common bile duct can block the normal bile flow and cause dull pain after eating, nausea or vomiting (24). The condition is most common in women who have had their gallbladders removed (22). The pain can be triggered by stress.
Gallbladder polyps are abnormal growths on the inner side of the gallbladder wall; they rarely cause right upper abdominal pain, nausea or vomiting (8). Large polyps (>1.5 cm) may develop into cancers (8).
Chronic Biliary Pain
Primary Sclerosing Cholangitis
Primary sclerosing cholangitis is a rare but severe chronic autoimmune disease of the bile ducts, usually in young adults but also in children. It is strongly associated with inflammatory bowel disease – ulcerative colitis or Crohn's disease (19).
Symptoms include chronic pain and a lump (enlarged liver) in right upper abdomen, fatigue, loose, pale and greasy stools, jaundice, itchy skin and weight loss. The disease can lead to cirrhosis, liver failure or cancer of the bile duct (cholangiocarcinoma) (19). The only effective treatment is liver transplantation (19).
Cancer in the Gallbladder or Bile Duct
Gallbladder cancer and cancer of the bile duct (cholangiocarcinoma) are rare. Gallbladder cancer usually develops as a complication of a chronic gallbladder inflammation (cholecystitis) in older people (5). Symptoms include chronic pain in the upper abdominal quadrant, a palpable lump below the right rib cage, lumps (enlarged lymph nodes) around the belly button and above the left clavicle, nausea, vomiting and fever, anorexia and weight loss and, especially in bile duct cancer, jaundice, dark urine and pale stools (5,6,7).
Diagnosis of gallbladder cancer is by ultrasound, CT or MRI and of bile duct cancer by MRCP or ERCP. Treatment may involve surgical removal of the gallbladder or bile duct, chemotherapy or radiation therapy (25,37). Except in early stages, the prognosis is poor (5).
Pain that persists after gallbladder removal can be caused by bile reflux, gallstones trapped in the bile ducts, bile leakage due to accidental bile duct injury, sphincter of Oddi dysfunction or internal scars (adhesions).
Complications of a Gallbladder and Bile Duct Disease
Acute Pancreatitis
Pancreatitis is inflammation of the pancreas, which can develop due to obstruction of the pancreatic duct by gallstones.
Symptoms of acute pancreatitis include sudden, severe, dull pain in the upper central or left abdomen and middle back, nausea and vomiting (38).
Life-Threatening Complications of Gallbladder Disease
Symptoms that speak for a life-threatening complication of gallbladder disease include high fever (>101 °F or 38 °C), abdominal distension, dizziness or impaired consciousness. Causes include:
Gallbladder rupture
Peritonitis–inflammation of the peritoneal membrane that covers the abdominal organs (39,41)
A collection of pus in the liver (liver abscess) or gallbladder (empyema) (1)
Sepsis or septic shock–infection with invasion of bacteria into the blood (42)
Diagnosis
Abdominal ultrasound can reveal:
Gallbladder stones as small as 2 mm in 95% cases and, sometimes, stones in the common bile duct
Acute or chronic cholecystitis, gallbladder polyps and cancer (2)
Endoscopic ultrasound–via the tube inserted through the mouth into the intestine–can reveal stones in the common bile duct and biliary sludge (44).
Magnetic resonance imaging (MRI) can show biliary sludge, gallbladder polyps and cancers.
Magnetic resonance cholangiopancreatography (MRCP) provides a detailed image of the gallbladder and bile ducts. A doctor injects a contrast substance into a vein and after some time, when the contrast collects in the gallbladder and bile ducts, MRI scan is done. MRCP can show stones, tumors and inflammation in the common bile duct (1,2,31).
Endoscopic retrograde cholangiopancreatography (ERCP) involves passing a tube with a camera, light and instruments through the mouth into the duodenum and injecting the contrast substance into the bile duct, followed by an X-ray. ERCP can reveal stones in the bile duct and enables removal of stones, drainage of the infected duct and cutting the sphincter of Oddi.
X-ray shows gallstones in only up to 20% cases and CT scan in up to 80% cases (43).
Hepatobiliary scintigraphy (HIDA scan) is used to evaluate the gallbladder emptying; poor emptying (ejection fraction <40%) is an indication for the gallbladder removal.
Blood tests may show:
Increased white blood cells (WBC): in cholecystitis and cholangitis
Increased liver enzymes or bilirubin: in bile duct obstruction
Pain Relief and Treatment
Analgesics for Severe Pain
Nonsteroidal anti-inflammatory drugs (NSAIDs): diclofenac injection into the muscle or as a suppository, indomethacin, ketorolac
Narcotic analgesics: morphine or pethidine injection into the muscle
Antispasmodics: dicyclomine
References: (2,11,30)
Analgesics for Mild to Moderate Pain
Antispasmodics: butylscopolamine (hyoscine butylbromide) tablets
Opiates: codeine
NSAIDs: ibuprofen tablets
Paracetamol
Reference: (30)
During pregnancy, NSAIDs (diclofenac, ibuprofen, indomethacin, ketorolac, naproxen) should be avoided in the third trimester because they may cause birth defects, but aspirin, paracetamol and opiates (codeine, fentanyl, morphine, pethidine) appear to be safe (20,23).
Fasting
Do not eat during a gallbladder attack and drink only plain water to prevent gallbladder contractions (29).
Antiemetics
To prevent nausea and vomiting, a doctor can prescribe antiemetics, such as metoclopramide, ondansetron or prochlorperazine (2,30).
Antibiotics
In inflammation (cholecystitis, cholangitis), a doctor should give you intravenous antibiotics (not by mouth) (11,17).
Endoscopic cholecystectomy is a surgical procedure that involves a small incision in the abdominal wall and removing the gallbladder using an endoscope.
Classical open surgery is performed when endoscopic removal is not available or possible.
Other Treatment Options for Gallbladder Gallstones
Oral gallstone dissolution. When surgery might be risky and when gallstones are small (<5 mm), dissolving stones by ursodeoxycholic acid by mouth for at least 6-12 months can be tried; stone recurrence after this treatment is about 50% (2).
Extracorporeal shock-wave lithotripsy can be used to break stones smaller than 2 cm; recurrent rate is up to 30% within 5 years (2).
Home Remedies
Few things that may help relieve gallbladder pain, according to anecdotal reports:
Heating pad or castor oil compress
Hot bath
Gallbladder Flush
There is no reliable scientific evidence that gallbladder flush or cleanse using the following herbs or beverages helps to ease gallbladder pain or prevent gallstones (28,35): alfalfa, apple cider vinegar, apple juice, a mixture of beet, carrot and cucumber juice, barberry bark, calendula, catnip, chamomile tea, chicory, dandelion, Epsom salt, fennel seed, garlic, ginger, goldenseal, honey with turmeric, lemonade, milk thistle, nettle, olive oil, peppermint tea, psyllium, quebra pedra, rosemary, salt water, St. John's Wort, wild yam root, yellow dock and yellow root.
Diet to Prevent Gallstones
The main dietary approach that can help prevent gallstones is avoiding obesity or, if already obese, to lose weight slowly (1-2 lbs/week).
There is insufficient evidence about the preventative effects of the following diet approaches on gallstone formation:
Low saturated fat, low sugar and high dietary fiber intake
Vegetarian diet
Vitamin C supplements
Caffeine (coffee, green tea)
Moderate alcohol drinking
Drinking plenty of water
References: (32,34,35,36)
If you already have gallstones, it may help you prevent painful attacks if you avoid big meals and fat-rich meals.
Differential Diagnosis
Other causes of pain after eating: irritable bowel syndrome (IBS), gastroesophageal reflux disease (GERD), gastritis or gastric ulcer, food allergy, staph food poisoning
Other causes of sudden side pain: appendicitis, pleurisy, urinary tract infection (UTI), kidney stones, rib fracture, shingles, adhesions (scar tissue in the abdominal cavity after surgery)
Other causes of sudden right upper abdominal pain: inflammatory bowel disease (IBD), inflammation of the liver (viral hepatitis), small bowel obstruction, aneurysm of the abdominal aorta, eclampsia (increase of blood pressure during pregnancy)