What is the belly button and where is it located?
The belly button is a scar in your abdominal wall where the umbilical cord was attached when you were still in the mother's womb.
Other names for the belly button: navel, umbilicus, umbilical dip, tummy button.
The belly button is located in the middle of the lower part of your abdomen, about 2-3 inches below your waist line. The only organs placed directly under the belly button are the abdominal wall muscles and the small intestine.
In most infants, the belly button bulges out a bit ("outie"), and in most children and adults it is more or less depressed ("innie").
Causes of Belly Button Pain
1. Belly button  pain with DISCHARGE
2. Pain AROUND the belly button
3. Pain ABOVE the belly button
4. Pain UNDER and BELOW the belly button
5. Pain on the RIGHT or LEFT SIDE of the belly button
6. Belly button pain in CHILDREN
7. Other causes of central abdominal pain
1. Pain and Smelly Discharge from the Belly Button
Fungal Infection
Cause: the yeast Candida
Risk factors: regular touching, bad hygiene, moist skin, obesity
Symptoms: red, smelly, itchy, tender and mildly painful belly button surrounded by flaky skin and pus-filled blisters (pustules) with dark, yellow or white discharge or occasional bleeding (Picture 1)
Treatment: anti-fungal creams
Reference: (4)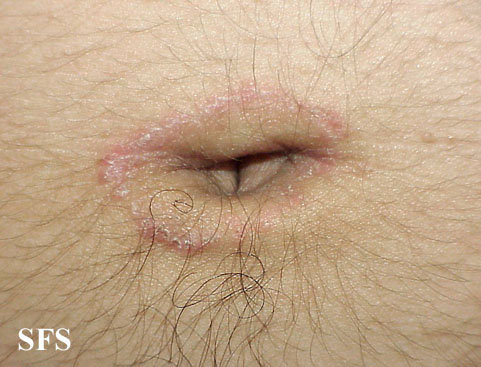 Picture 1. Fungal infection (ringworm)
around the navel
(source: Samuel Freire da Silva, Dermatology Atlas)
Bacterial Infection
Causes: the bacteria Staphylococcus aureus (staph) or Streptococcus pyogenes (strep)
Risk factors: bad hygiene, obesity, scratching or rubbing, a cut, piercing, an epidermoid cyst, a foreign object, steroids or immunosuppressant drugs (in Crohn's disease), a wound after surgery or laparoscopy
Symptoms:

Folliculitis: red, itchy bumps with occasional white centers filled with pus
Cellulitis: red, thick, tender and warm skin in and around the navel, possibly mild fever
Abscess: a soft lump up to a size of a golf ball, occasionally draining pus

Treatment: antibiotic creams, oral antibiotics, abscess drainage
References: (9,14,15)
Urachal Cyst
The urachal cyst develops from the urachus–a remnant of the duct withing the umbilical cord through which a fetus drains urine from the bladder. Rarely, this duct remains open in children or young adults and drains urine through the belly button or becomes infected.
Symptoms: pain between the belly button and the pubic area. An abscess in the belly button or an opening (fistula) with clear or thick discharge from the belly button can develop.
Treatment: antibiotics, drainage or surgical removal of the cyst.
References: (5,6,10,13)
Other Causes
A pilonidal sinus is an abnormal tissue that develops as a reaction to an ingrown hair. It usually appears above the sacrum and rarely in or near the belly button. Symptoms may include a painful lump with hair and redness in the belly button and leaking pus or blood (31). Treatment may include antibiotics, drainage, hair removal or surgical removal of the sinus.
Endometriosis–the endometrial tissue outside the uterus–can present as a painful nodule in the belly button that can bleed during menstruation (32). Treatment is with excision of a nodule.
2. Pain AROUND the Belly Button
Umbilical or Paraumbilical Hernia in Adults
An umbilical or paraumbilical hernia is a protrusion of the small intestine between the muscles in or near the belly button.
Risk factors: pregnancy, obesity, persistent coughing, abdominal surgery, a large abdominal tumor, accumulation of the fluid in the abdomen in liver or kidney disease (ascites)
Symptoms: a soft bulge–of the skin color, red, gray or blue and up to few inches big–near the belly button; coughing and straining can cause discomfort, pressure, pain or burning feeling.
Treatment is by surgical repair of the muscles near the belly button.
Reference: (3)
In infants, an umbilical hernia is common but rarely painful (6).
Pregnancy
Causes of pain around the belly button during pregnancy:
Umbilical hernia
Stretching of the abdominal wall muscles
The pressure of the fetus upon the belly button (in late pregnancy)
Appendicitis
Appendicitis is an inflammation (usually acute) of the appendix.
Symptoms:

Anorexia
Vague pain that initially appears in the belly button area and, within several hours, moves to the lower right abdominal quadrant or rarely to upper right abdomen, right flank or the rectum, becomes severe and stabbing and is aggravated by coughing (Picture 2)
Nausea, vomiting, constipation and low-grade fever after the pain

Signs:

Tenderness in the lower right quadrant
Rovsing sign (rebound tenderness): applying pressure upon the left lower abdomen and quickly releasing it triggers pain in the right lower abdomen.

Treatment is by surgical removal of the appendix.
Reference: (1)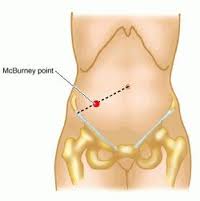 Picture 2. Appendix pain location
(source: Emergencyus, CC license)
Psoriasis
Psoriasis is a chronic inflammatory skin condition with red or silvery white, itchy or burning patches with occasional painful cracks around the belly button, knees, elbows, scalp, back, hands or feet (Picture 3) (8). Treatment includes topical and oral anti-psoriatic medications.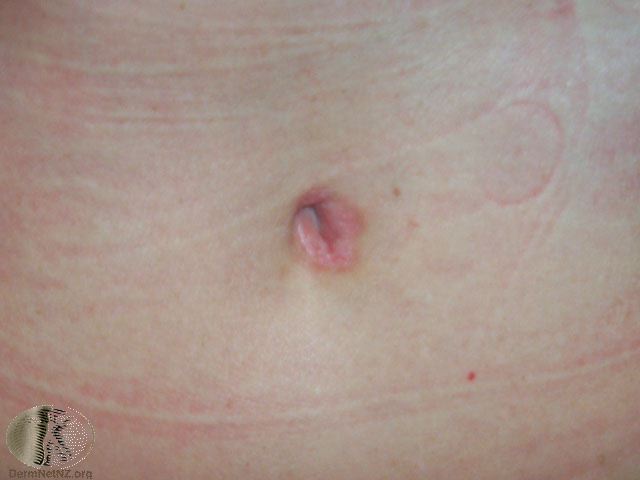 Picture 3. Psoriasis
(source: DermNet NZ, CC license)
Abdominal Cancer
In advanced stomach, colorectal, pancreatic or other abdominal cancer, irritating red rash around the belly button called "Sister Mary Joseph nodule of the umbilicus" can appear.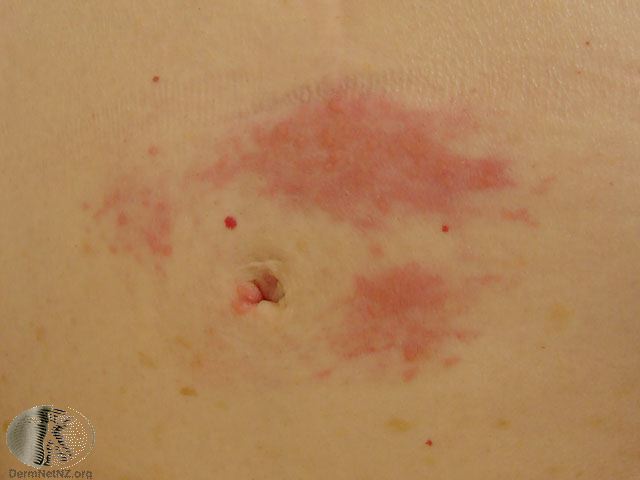 Picture 4. Sister Mary Joseph's nodule
of the umbilicus caused by abdominal cancer
(source: DermNet NZ, CC license)
3. Pain ABOVE the Belly Button
Acute gastritis (stomach infection): loss of appetite, burning pain and nausea, burping (33)
Gastric ulcer: gnawing pain, which can be relieved or aggravated by eating, feeling of fullness, heartburn and–if bleeding–black stool (2)
Duodenal ulcer: deep pain usually relieved by eating (2)
Acute pancreatitis: severe, constant upper abdominal and back pain–which can last for several hours or days and can be worse after eating–, nausea, vomiting and fever (17).
Ventral hernia: part of bowel protruding through the abdominal wall muscles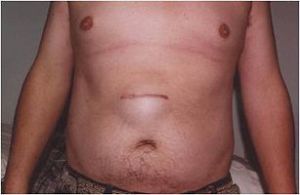 Picture 5. Ventral hernia
above the belly button
(source: Archana Ramaswamy, MD, SAGES)
4. Pain UNDER (BEHIND) and BELOW the Belly Button
Bladder Problems
Bladder infection (cystitis): pain about 5 inches below the belly button, frequent urination, cloudy urine and low-grade fever
Interstitial cystitis: very frequent urination, mainly in women; the pain is relieved by emptying the bladder
Bladder cancer: pain in the bladder, blood in the urine
Reference: (11)
Irritable Bowel Syndrome (IBS)
IBS pain is often located below the belly button but can appear anywhere else in the abdomen; other common symptoms include bloating, loose stools or constipation shortly after meals (16).
Crohn's Disease
Crohn's disease is a chronic inflammation of the gastrointestinal tract, mainly the small intestine, most commonly in young adults. Common symptoms include pain below the belly button or in the lower right abdominal quadrant, chronic diarrhea, nausea, weight loss, fatigue and skin rash (30).
Urachus with Pulling Pain
Some, mainly young, people describe a sharp, shooting pain in the belly button that travels down to the bladder, penis, vagina, clitoris, urethra or groin when they stand up quickly, urinate, or press or pull the belly button upwards, usually when they have full bladder; some describe it as a string going down from the belly button (21). The pain may originate from the urachus, which is a remnant of the duct that connects the bladder and umbilicus in the fetus. If necessary, the urachus can be surgically removed.
5. Pain on the RIGHT or LEFT Side of the Belly Button
Shingles: burning, itchy, crusty rash that travels from the spine around the trunk toward the belly button
Urinary stones: sudden, severe, colic pain on the left or right side of the abdomen, which can radiate to the groin, and burning urination
Bulging or herniated discs or arthritis of the thoracic spine can be associated with pinched spinal nerves that can cause pain on the right or left side of the belly button.
6. Belly Button Pain in CHILDREN
Urinary Tract Infection (UTI)
Urinary tract infections in children can present with pain around the belly button, frequent urination and cloudy and smelly urine (29).
Umbilical Granuloma and Polyp
In newborns, a granuloma–1 mm to 1 cm pink, crumby lesion with or without drainage–can develop after the umbilical cord separation (6).
A polyp is a congenital lesion that appears as a 1 to 4 cm bright red, soft mass with occasional discharge in the belly button, mainly in male infants; rarely only in adulthood (6).
Omphalitis
Omphalitis is a bacterial infection of the umbilical stump in newborns with purulent discharge (7).
Other Causes
Abdominal migraine (mainly in children before puberty) refers to central abdominal pain of unknown reason lasting 1-72 hours, vomiting, dizziness and sensitivity to light (photophobia) (25).
Henoch-Schönlein purpura is an inflammation of blood vessels (vasculitis) with generalized rash (small, red/purple spots) caused by bleeding into the skin, abdominal and joint pain (26).
7. Other Causes of Central Abdominal Pain
ACUTE:
Trapped wind can occur within few hours after eating high-fiber foods (fruits, beans) anywhere in the abdomen; the pain can be sharp, crampy and quite severe.
Food poisoning: bouts of watery diarrhea and abdominal cramps several hours after eating
Diabetic ketoacidosis: abdominal pain, excessive urination, excessive thirst (18)
Uremia (accumulation of waste products in chronic kidney disease): abdominal pain, nausea, itchy skin (19)
Rectus sheath hematoma (due to anticoagulant therapy, persistent coughing or straining at stool, injury): sharp, severe pain in the middle of the abdomen, bruising and a firm lump, which is only sometimes visible (20)
Intestinal obstruction (due to adhesions or cancer; or a non-mechanical obstruction called ileus after surgery or in serious disease): central abdominal pain, nausea, vomiting and absence of bowel movements (22)
Mesenteric venous thrombosis (blood clot in a vein that carries blood away from your intestine). Risk factors: appendicitis, pancreatitis, cancer, diverticulitis, cirrhosis. Symptoms: abdominal pain worse after eating, rectal bleeding (23).
Acute intermittent porphyria is a genetic disorder of heme. Symptoms: sudden, severe, diffuse abdominal pain lasting for hours, pain and numbness in the limbs, muscle weakness (27).
Aneurysm of the abdominal aorta or its rupture. Symptoms: severe or dull pain in the central abdomen, chest, lower back or groin (24).
Acute lead poisoning can cause severe, cramping abdominal pain, vomiting, seizures and coma (28).
Other references: (12)
CHRONIC:
Food intolerances (lactose intolerance, fructose malabsorption): bloating and loose stools
Intestinal parasites: abdominal pain and distension, parasites in the stool
Fibroma–a benign abdominal tumor; palpation may reveal an abnormal mass